Crosby, Stills + Nash Revisit Classic Debut Album in Three-Hour Concert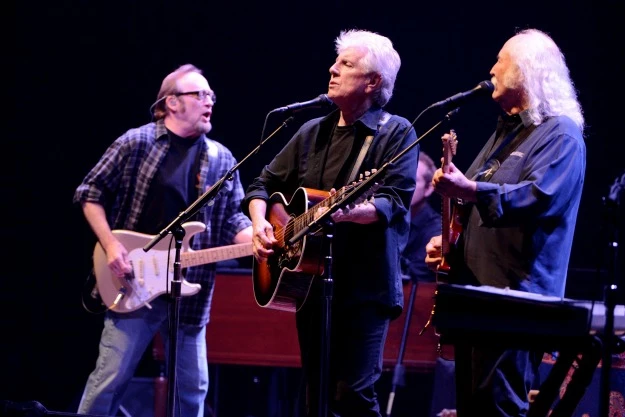 David Crosby, Stephen Stills, and Graham Nash have been through a lot over the years — both as solo artists and together as Crosby, Stills & Nash. And while their history has often been turbulent, it's also been loaded with harmony, as they persuasively demonstrated during an epic three-hour concert last night (Oct. 23).
The show, which wrapped up the trio's 2012 world tour at New York's Beacon Theatre, found the trio revisiting a lengthy portion of their catalog, including the entirety of their 1969 debut album in sequence.
Rolling Stone reports that the album run-through came after an opening set that featured a number of other hits ("and a sprinkling of new songs"), serving partially to get their singing voices warmed up (particularly Stills, who RS described as "far and away the most diminished"). Even if their vocal blend isn't quite as effortlessly crystalline as it was more than four decades ago, those harmonies remain undimmed.
The show served as a fitting finale to an occasionally tumultuous year that found Stills facing another postponement of his long-planned Buffalo Springfield reunion tour with Neil Young — and found Crosby, Stills & Nash publicly squabbling with producer Rick Rubin, who helmed the sessions for their as-yet unreleased covers album. But while they've recorded sporadically over the years (their last studio set, 'Looking Forward,' was released in 1999), they've toured almost constantly, and they proved that road-forged bond was still unbroken on Tuesday. As Rolling Stone put it, "It's hard to imagine them doing this 10 years from now when they hit 80. Then again, who would have ever imagined it would have lasted this long?"
Source:
Crosby, Stills + Nash Revisit Classic Debut Album in Three-Hour Concert