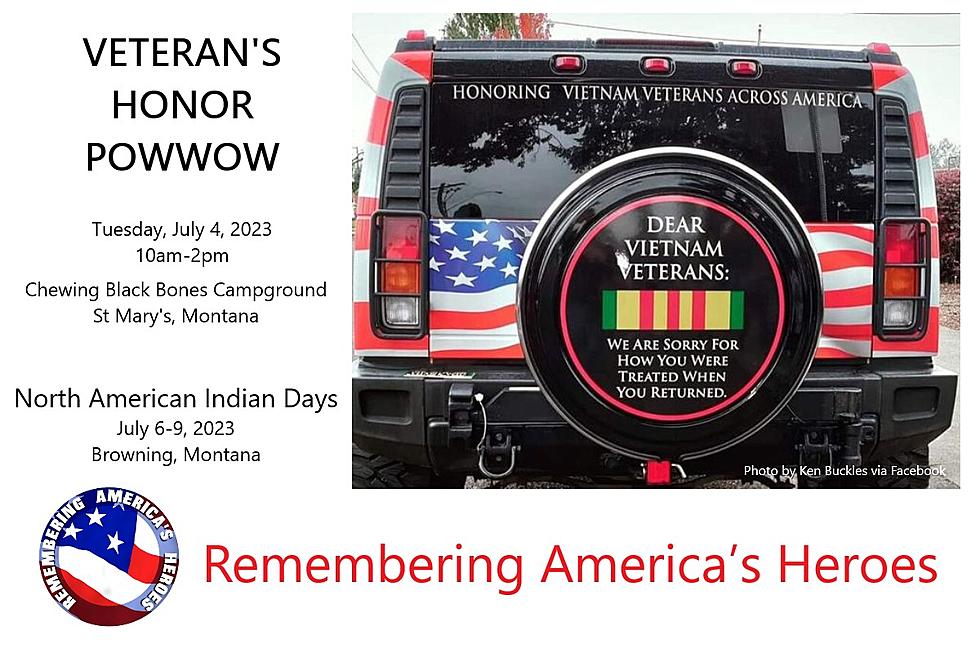 Blackfeet Veterans Host "Remembering America's Heroes" at NAID
Photo by Ken Buckles/RAH via Facebook. Graphic by Anne James
BROWNING - All Veterans, active Military and their families, as well as the general public are invited to meet three distinguished guests at the Veteran's 4th of July Pow Wow and the 2023 North of American Indian Days. Ken Buckles, Christopher (Hal) Spence and Michael Coon will be on hand at NAID.
Ken Buckles, Founder and Executive Director of Remembering America's Heroes'. Whose mission has been to educate our youth and communities about the value of freedom and it's high cost. In 2001, the Remembering America's Heroes mission began in Oregon when it developed the Annual living History Day in Oregon. The idea was to educate high school students about the sacrifice and service of men and women in uniform. Mr. Buckles wanted to show a melting pot of all peoples serving in the armed forces. So he began inviting different nationalities of Veterans to participate at the RAH. Including Tuskegee airmen, Native Americans, Mexican Americans, and other groups that have played significant roles in the theaters of war. For two decades, RAH traveled throughout 40 different high schools in the state of Oregon.
Most recently, Honoring Vietnam Veterans Across America was developed to begin a tour across America by visiting Vietnam veteran families, honoring them, and breaking bread with them to show appreciation for their service and sacrifices. It is no secret that the Vietnam veterans were not treated well upon returning home from the war. Today, HVVAA travels in a dedicated Vietnam Veteran's Humvee across this great nation apologizing for the Vietnam veterans' adverse treatment. The HVVAA Humvee will be on display at the Vertan's 4th of July Pow Wow and the 2023 Native American Indian Day. HVVAA tour will attend the Veteran's 4th of July Pow Wow at Chewing Black Bones Campground at St. Marys Montana and the 2023Native American Indian Days, July 6-9 in Browning Montana.
Christopher (Hal) Spencer experience was depicted in the movie "12 Strong" released in 2018, the declassified true story of the horse soldiers. The story of the first Special Forces team deployed to Afghanistan. This trained team rode horseback, the only way to get far enough into Afghanistan to win over the Northern Alliance. A statue of a horseman has been dedicated at the World Trade Center to honor the twelve soldiers who fought on horseback against the mechanized and armed Taliban. Mr. Spencer will be meeting fellow veterans and Military members while attending the North American Indian Days 2023 celebration in Browning Montana, July 6-9.
Michael D. Coon is steward of the Mission 22 organization, a group founded by veterans to provide extensive, personalized support. Mr. Coon is a Muscogee citizen and Mission 22 advocate. His son, Michael K. Coon also a veteran, who lost his life to suicide in 2015 due to PTSD after his third deployment overseas. Since this tragedy, father and veteran Michael D. Coon has dedicated many hours to honoring his son while advocating for the Mission 22 Organization. Michael D. Coon is the son of Phillip Coon, a World War II Baton Death March survivor. Mr. Coon will be attending the Veteran's 4th of July pow wow at Chewing Black Bones Campground, as well as attending the 2023 North American Indian Days, July 6-9 in Browning Montana.
Thanks to Bruce Running Crane of the Blackfeet Warrior Society; Leo Pollock of the Blackfeet Veteran's Alliance and the Blackfeet Tribal Business Council for sponsoring these dignitaries attending the 2023 North American Indian Day Celebration in Browning Montana.
- by Bruce Running Crane -