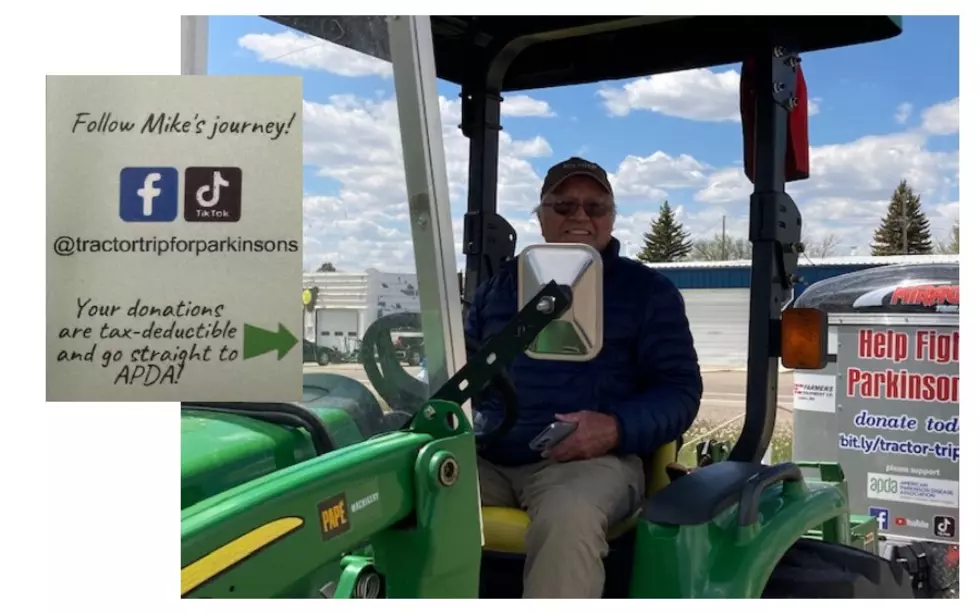 Brotherly Love: 1750 Miles to Deliver Tractor, Raise Funds for APDA
Mike Atkinson stops at the KSEN/K96 Studios in Shelby on his way to deliver his John Deere tractor to his brother-in-law in Minnesota, and raise funds for the American Parkinson's Disease Assoc. (Photos: Anne James)
Mike Atkinson is a man on a mission. Make that two missions- to deliver his John Deere utility tractor to his brother-in-law, and to raise money for the American Parkinson Disease Association. The first mission is a bit of fun for the 76-year-old recent retiree. The second is personal.
"My brother-in-law told me when I didn't need my tractor anymore, that he'd like to have it," Atkinson told KSEN's Gary Goodan during an on-air interview Wednesday afternoon, "and then my brother got Parkinson's about that time, and I figured, you know, I can use this trip, I can take this tractor, and I can gather donations."
The journey will take Mike from his home in Bellingham, Washington, to his brother-in-law's place at Perch Lake, Minnesota, a distance of 1750 miles. His goal is to raise $50,000 for the APDA, which funds in-home support service for Parkinson's patients, and research to find a cure. A little less than halfway to his destination, he's already raised over $40,000. Travel expenses are being covered by Mike and his wife, Phyllis, and some of their friends.
Phyllis Atkinson has been keeping a travelog for her husband on the Facebook page "Tractor Trip for Parkinson's ," and two nieces are doing the same on Instagram and TikTok under the same name. When he pulled into Cut Bank on Tuesday, he was greeted by a police and fire truck escort. He tried to sneak into Shelby, but our Wyatt Frydenlund flagged him down and invited him to the KSEN/K96 studios for an interview.
Mike's plan was to spend Wednesday night in Shelby, then head for Chester on Thursday, and on to Havre on Friday, which should mark the halfway point in his journey. As much as he's enjoying himself, he told Gary he hopes he's also helping his brother, Dan. "Parkinson's has really hit him with a vengence. You feel so helpless as a family member,  but I could do this." Perhaps, Mike suggested, this can help lift Dan's spirits as he struggles to deal with the disease.
The APDA has set up a special donation page on its website. You can donate any amount. Many have sponsored a penny a mile, which would be $17.50, Mike says, "but every dollar or two, it all adds up." Use this LINK to donate.