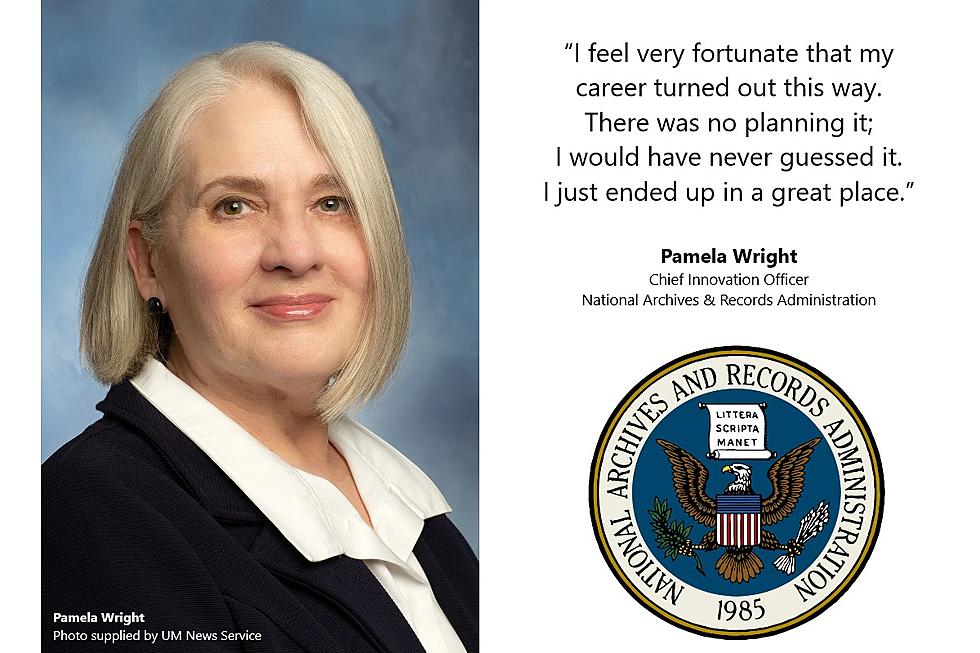 For Conrad's Pamela Wright, a Love of History Led to a Leadership Role at the National Archives
Photo supplied by UM News Service. Graphic by Anne James
MISSOULA – The number of documents and artifacts in the care of the National Archives and Records Administration is staggering – think billions, not millions. The agency is home to invaluable pieces of history like the Constitution and the Declaration of Independence, but also to smaller remnants of the past from throughout the United States.
University of Montana alumna and NARA's Chief Innovation Officer Pamela Wright believes the archive's purpose and accessibility are of the utmost importance.
"It's to hold the government accountable and to see the history of your country," said Wright, who lives in Washington, D.C.
A native of Conrad, Montana, Wright was recognized for her successes at NARA with a Distinguished Executive Presidential Rank Award, which highlights extraordinary accomplishments among federal employees.
"I was really proud to get that award and to have the recognition that it is important for the federal government to stay on top of technology and move ahead into the digital era," she said.
Wright was inspired to attend UM by one of her older sisters. She knew she wanted to go to college, but what she wanted to study was more of a mystery.
"I was a lost soul," Wright joked.
She took a gap year to study religion – which sparked an interest in history. She also had a passion for reading and decided to pursue a double major in English and history.
Wright's time at UM proved to be exactly the inspiration she needed to find a career path.
"The classes I took at UM gave meaning to my life," she said. "At that age, I think you're really looking 'what's the answer, what does life mean?'"
As a student, she interned at the Mansfield Library archives and found a niche that would serve as the launching pad for her career.
"I tried looking for a job that would apply to what I loved to do," she said.
Contacts in UM's Department of History referred her to Historical Research Associates in Missoula, and she accepted a position that involved traveling around the country to do archival research.
"I was thrilled that you could go research history and get paid to do it," Wright said. "I absolutely loved it, and I learned so much about public history and how to do effective research."
After a decade in that role, Wright felt it was time to look for a job with less travel so she could spend more time with her daughter. That led her to the National Archives, where she started out as an archivist working in initial processing and declassification.
"You open up those boxes that nobody has looked at in forever, and you document what is in there," she explained. "Which is a joy for someone who loves history."
Wright eventually became involved in the digitization of the archives vast store of documents, photographs and artifacts. She has helped make millions of records accessible and facilitated creative projects like History Hub, an online historical research community.
"From 2012 to now, we've done some really exciting projects," she said.
Her enthusiastic approach and dedication to expanding access propelled Wright to become NARA's first chief innovation officer. The position has proved to be a perfect fit.
"I love the job that I have, and I feel very fortunate that my career turned out this way," Wright said. "There was no planning it; I would have never guessed it. I just ended up in a great place."
With all the work Wright and NARA have done to digitize their archives, they still have more than 12 billion records to go. They prioritize the most sought-after records. Their digital catalog now boasts more than 220 million items.
Throughout the unexpected journey of her career, Wright said it's the lessons she learned at UM that guided her along the way.
"I came out of UM with a work ethic and an understanding of quality," she said. "UM really made me who I am."
- By Kelly Mulcaire, UM News Service -