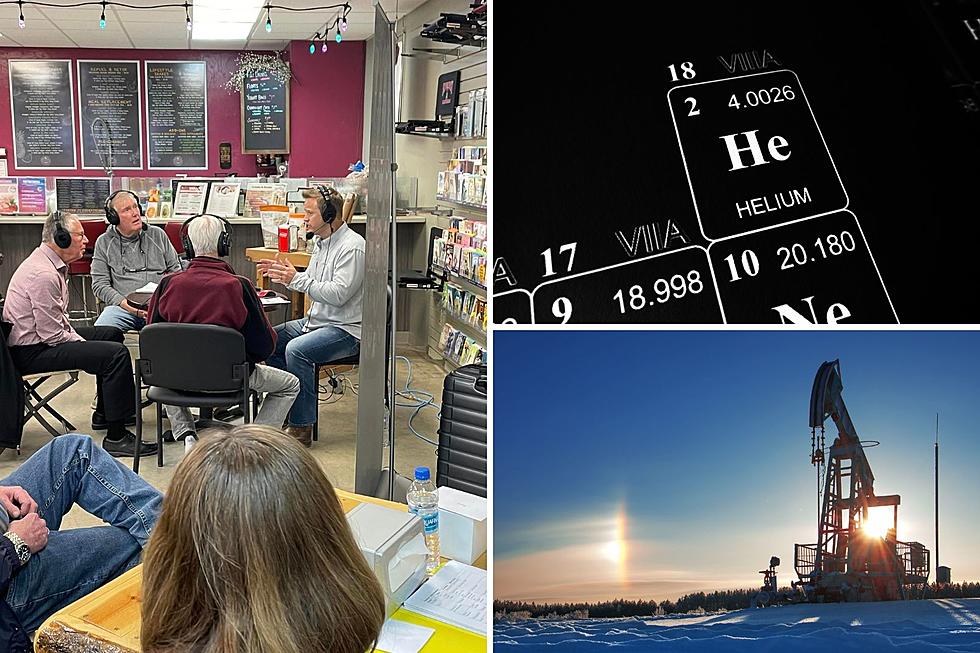 Helium: "The New Gold Rush" in Montana's Golden Triangle
Credit KSEN Radio/ Canva
Sometimes you have to go TO the story. You have to get out of the office to find out what's really going on. For those of you who thought we were just going to Shelby for a preview of the big Dempsey-Gibbons centennial celebration, you quickly found out that there was another big story brewing on the Hi Line as well.
Earlier this year, a friend in Shelby suggested we get to Shelby for a show. Helium is going to be the next big play here in Toole County, we were told.
On Thursday morning we caught up with Shelby Mayor Gary McDermott and longtime Shelby attorney Don Lee who both have extensive experience in the oil and gas industry.
Don Lee told us that helium will be "the new Gold Rush" for Shelby and Toole County.
Don Lee: Well, some people call it the new gold rush, because worldwide- short supply. Right after World War I, the federal government nationalized helium. And they had a large helium reserve out of Amarillo, Texas. About 6,7, 10 years ago they realized that helium reserve was being depleted and they decided to have an open auction and they did...to make a long story short, helium is the second most abundant element in the universe. It's short supply. It's hard to find. Yes, there are three companies now that are actively exploring for helium and Toole and Liberty Counties.
How is helium captured and distributed similarly or differently than oil and gas?
Don Lee: You drill for it just like you drill for oil and gas, except you drill deeper. You drill to the basement. You drill to the granite. Because helium is decomposed uranium and thorium that comes from the granite, from the crust of the earth.
How profitable could helium be for Montana's Golden Triangle?
Don Lee: Give you an example of what it's worth. Let's say that natural gas is going, combustible natural gas- methane- that you burn in your furnace, goes for we'll say $2.15 cents per 1000 cubic feet. Refined helium will go anywhere from $600 to $1,000 an Mcf, per thousand cubic feet. That's why they call it the new Gold Rush.
Don Lee also tells us that they are working on building a helium plant in the area. He says it is about a $25 million expenditure, and he hopes they will be up and running in about 8-10 months. "They put in a helium recovery unit. They'll put it up on site out of Whitlash."
Full audio is in the below podcast.
Let me apologize in advance for the audio quality on our end, but the guests we had and the info they delivered was top notch.(And we figured out what we did wrong with our new equipment so the audio sounds better next time...but like I say- GREAT info from our guests)
LOOK: Cities with the most expensive homes in Montana
Stacker
compiled a list of cities with the most expensive homes in Montana using data from Zillow.