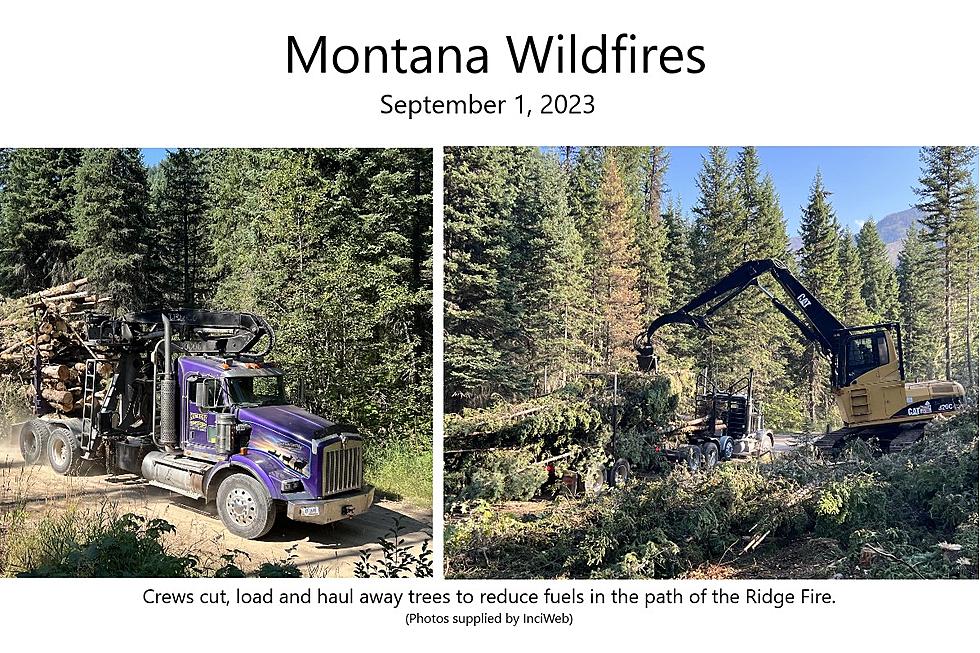 Hungry Horse Reservoir, East Side Road Reopened.
Photos Supplied by InciWeb. Graphic by Anne James
The Hungry Horse Reservoir and East Side Road have reopened, as of 10am this morning. The West Side Roas is open as far as the Doris Point Boat Launch.
The evacuation order for the Heinrude Community was lifted earlier..  Visit the Flathead Sheriff's office Facebook page for details.
Here are the latest reports on the larger wildfires in Montana:
RIDGE FIRE  (3665 acres - 6 miles southeast of Hungry Horse)
The east side road of Hungry Horse Reservoir (National Forest System Road 38) was reopened at10:00am this morning (Sept.1)  to public travel along the entire east shore to Spotted Bear Ranger Station. The Hungry Horse Reservoir is now open for boating and the east shore and islands are open to dispersed camping. The west side road (National Forest System Road 895) will be open to the Doris Point Boat Launch, allowing watercraft access to the reservoir from that popular site. NFS Road 895 remains closed south of the Doris Point Boat Launch due to the Tin Soldier and Doris Point Fires. An area closure for the Ridge Fire is also still in effect and includes the Desert Mountain Road (National Forest System Road 497) and Emery Creek Road (National Forest System Road 546). Emery Bay Campground, however, will be open and available for reservations.
While the cooler weather and recent rainfall have significantly reduced fire activity, this week's rain was not a season-ending event and areas within the fire perimeters are still hazardous. Firefighting efforts continue within the fire areas and the closures are in place to provide for public and firefighter safety.
Visible flames are only one aspect of hazardous conditions within a fire area. Even as black areas in the interior of the fire perimeter cool off, residual heat can be found in stumps and large fallen trees. Smoking stump holes and even standing, green needle trees can have smoldering roots below the ground for days or weeks after everything around it is extinguished. Wet soil and strong winds can cause these fire-weakened trees to fall without warning, making them very hazardous.
Please review the area closure maps and remain outside of the closed fire areas. Firefighters continue to work diligently and closure areas will open as soon as safely possible.
DORIS POINT FIRE (1606 acres - 8 miles south of Hungry Horse)
NFS Road 895 (West Side South Fork Road) is now open to the Doris Point Boat Launch to allow access to the reservoir. NFS Road 895 is closed south of the Doris Point Boat Launch. All roads and trails within the closure are closed to the public.
TIN SOLDIER COMPLEX (8165 acres - 17 miles east of Swan Lake)
The area still closed due to the Tin Soldier Fire Complex encompasses the west side of the Hungry Horse Reservoir from the Doris Point Boat Launch on NFS Road 895 on the north end to the Wilderness boundary on the south end, and from the Swan Mountain ridgeline down to the reservoir, excluding the Jewel Basin Hiking Area.
EAST FORK FIRE (5162 acres - 12 miles south of Trego, MT )
Eureka Ranger District reported the second highest amount of rain ever recorded in the area on Wednesday.  This heavy rain increased fuel moisture levels and is slowing fire activity. The majority of the fire's creeping and smoldering behavior remains in dead and downed timber. The fire shows little activity in old timber sale areas with younger 2nd and 3rd generation growth trees that contain limited dead and downed trees. Weather will warm slightly over the weekend however; fire weather activity is expected to remain at a minimum. A slight increase in smoke may be visible in the area.
On the east side of the fire, crews will remove hazardous trees that pose a safety risk to crews working in the fire area. On the fire's north and eastern edges, heavy equipment will work alongside hand crews both day and night to remove trees felled in the area during line construction.
Pre-Evacuation Warnings that had been in effect have now been lifted. For more information, go to the Sheriff's Department website.
RIVER ROAD EAST FIRE (17,230 acres - 6 miles due East of Plains)
Fire crews report the fire is now 35% contained, and only managed to gain 3 acres in the past 24 hours,  As containment increases, there may still be areas of smoke and fire within the interior of the fire area.
Crews plan to continue the patrol and mop up work that has been ongoing along the north (Henry's Creek), northeast corner, and eastern (forest and CSKT boundary) sides of the fire area. Crews will return to the southeast corner of the fire to continue work on the direct control line where some heat remains. Fire personnel will work on removing some hazard trees that have been identified along River Road East. Hazard trees are trees that could potentially fall without warning because of fire weakened or impacted root systems. Clean up work along the western flank of the fire, north of Pat's Knob will also continue. Mop up work also remains on some of the control lines on the northwest corner of the fire. Crews will be working on those control lines again today. The number of personnel and equipment will continue to be right-sized for a smaller organization as containment increases and control lines are completed and secured.
Montana Fish, Wildlife and Parks has a closure in place on segments of the Flathead River and Clark Fork River within and near the River Road East Fire area. Details can be found HERE. 
The Lolo National Forest has an emergency closure of roads and trails for public and firefighter safety. For a complete listing of the closed roads & trails, click HERE.
COAL RIDGE FIRE ( 1200 acres - 5 miles north of Stafford Ferry)
On Thursday, crews worked to secure the southern edge of the fire and began mop-up operations on the north, west and east sides. Overall  containment is about 20%
PRYOR CREEK ROAD FIRE - (2972 acres - 25miles south of Billings)
Wednesday afternoon's wind-driven flare up added  another 600 acres to the fire's footprint, which would make it 2972-acres. Mop-up activities continue today.
SIDNEY FIRE (228 acres - 16 miles west of Heart Butte)
As of September 1, the fire is still estimated to be around 228 acres.  The fire is currently smoldering and creeping in timber on the west side of the South Fork Two Medicine River with minimal fire behavior and growth during the past two weeks.
Trails in the area remain closed. CLICK HERE for the Helena-Lewis & Clark National Forest's latest closure map.
BOWLES CREEK FIRE (6988 acres - Near Skalkaho Pass)
Fire crews will be present along Hwy 38, Skalkaho Road, as fire suppression repair work along firelines, roads, trails, safety zones, and drop points continues. This work involves immediate post-fire actions taken to minimize environmental impacts resulting from fire suppression activities.
The fire completion has increased to 32%. Due to limited fire activity, fire personnel are beginning to focus on suppression repair to mitigate adverse resource effects resulting from fire suppression activities. Firefighters will continue to patrol and monitor existing fire line and fire perimeter.
BIG KNIFE FIRE (7276 acres - 5 miles east of Arlee)
Daily reports have ended, with the last report showing 17% containment.
COLT FIRE (7154 acres - 15 miles northwest of Seeley Lake)
The Colt Fire is 100% contained.
Some closures remain in effect, however. More information for closures is available HERE.
NIARANDA FIRE (20,365 acres - 12 miles west of Elmo) & MILL POCKET FIRE (1869 acres - 3 miles West of Hwy. 28)
Both the Niarada Fire and Mill Pocket Fire are 100% contained.