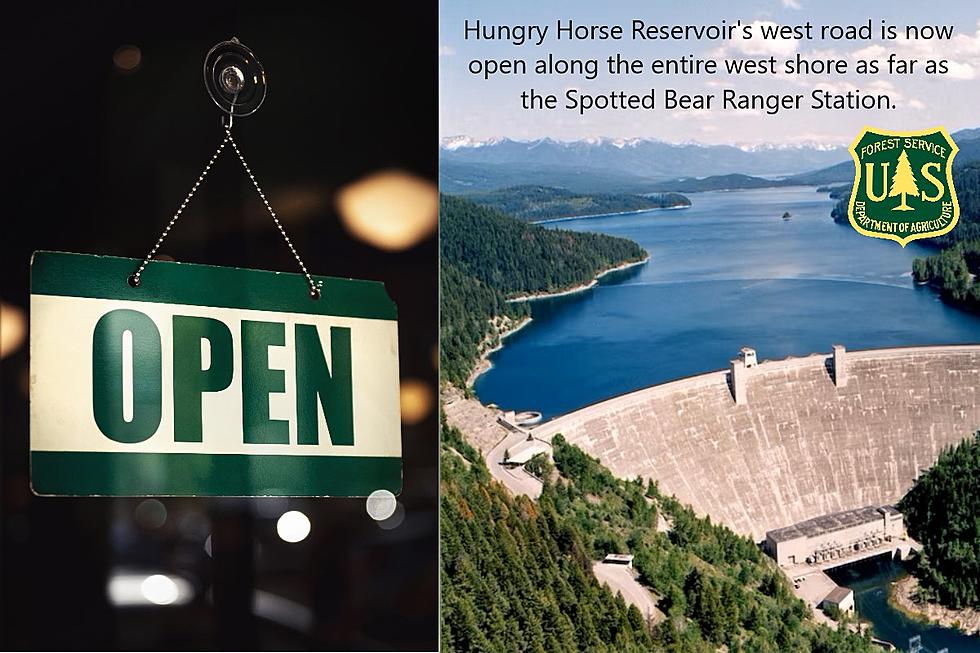 Hungry Horse Reservoir's West Side Road Is Now Open
Photo Credits: Tim Mossberg/UnSplash, US Army Corps of Engineers. Graphic by Anne James.
Flathead National Forest has reopened the west side road of Hungry Horse Reservoir (National Forest System Road 895) is now open to public travel along the entire west shore as far as the Spotted Bear Ranger Station.
In a press release, forest officials say recent rainfall has helped firefighters with their efforts to contain several fires in the area, but they also remind residents and visitors that there a danger of falling trees and rocks, especially in the burn areas.
Firefighting equipment will still be in the area and road graders are operating on the east side road so please drive safely and always follow directions of firefighting personnel.
Campgrounds will remain open and hosts in place, however water and garbage services will be unavailable, and a reduced fee implemented. The following campgrounds along Hungry Horse Reservoir have extended dates of operation this fall:
Devil Creek – September 15th
Emery Bay – September 26th
Doris Creek – September 27th
Lid Creek – September 27th
Lost Johnny Camp – September 27th
Lost Johnny Point – September 27th
"I am pleased to allow public access back into the Hungry Horse Reservoir both on the east and west side roads," said Rob Davies, Hungry Horse District Ranger.  "We appreciate the patience our public demonstrated as we forfeited some of our favorite recreation opportunities over the last 4 to 5 weeks. It was important that we keep the public safe and allow fire personnel to finish up with suppression activities and continue with clean-up operations."
The fires around Hungry Horse Reservoir are still not 100% contained and it is critical that the public stays out of the Ridge and Doris Point fire areas as equipment is operating and many hazards still exist.
Closures still in Effect for the Doris Point and Ridge Fire Area
Doris Point Fire Area:  The Doris Creek Road (FS Road 895 A) and the Lost Jonny Road (FS Road 895B) are within the fire area and will remain closed through most of the fall due to rolling debris and weakened trees.
Alpine 7 trail will remain open to hikers.
NFS road 895, west side Hungry Horse Reservoir Road is open for motor vehicle travel.
Ridge Fire Closure: The closed area encompasses Emery Creek drainage, north of NFS road 38 and west of Margaret Creek, including a portion of the Coram Experimental Forest. All roads and trails within the closure are closed to the public, including the Desert Mountain Road (NFS Road 497) and Emery Creek Road (NFS Road 546).