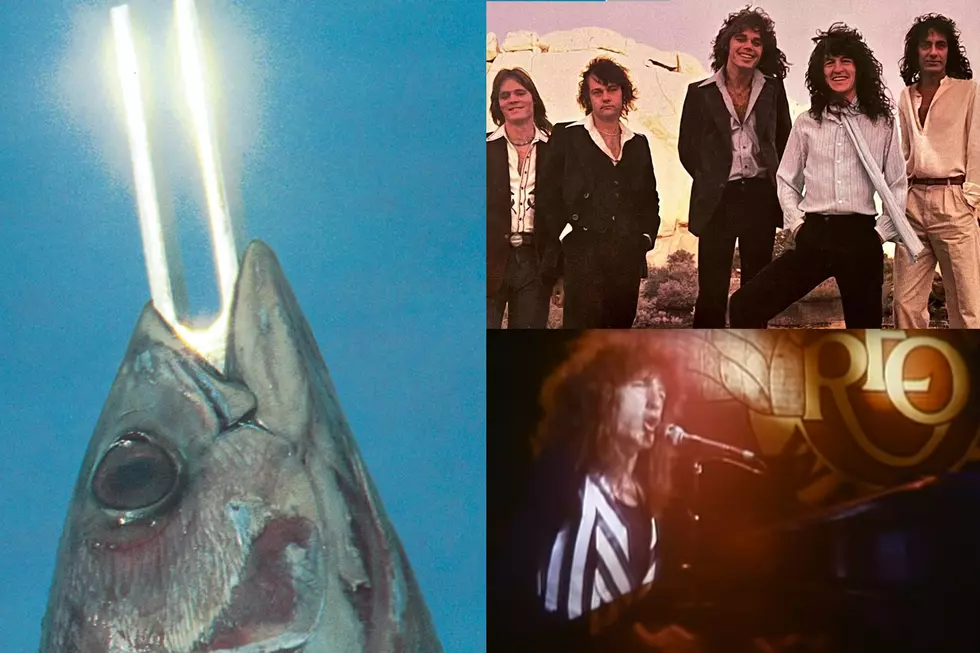 45 Years Ago: REO Speedwagon Breaks Through With 'Tuna Fish'
Epic Records / YouTube
REO Speedwagon was an anomaly in the music industry for most of the '70s: They got radio play and sold out arenas and even stadiums in the so-called "flyover country" between the coasts, but were largely ignored in hotspots like New York or Los Angeles.
"There were times that the records just wouldn't get any airplay outside of the Midwest and we couldn't figure out what was going on," singer Kevin Cronin told Creem in 1987. "You figure these are people – and if people in the Midwest like it, why shouldn't people out West or in the East? Maybe they won't like it, but at least they should get the chance to hear it.
"We're not saying that everybody in New York City is going to love us," he added, "but unless the radio stations give us a chance then the people aren't going to get a chance to accept it or reject it."
Future entertainment mogul Irving Azoff managed REO Speedwagon in their early days, but couldn't help them break out. "We were his failure," guitarist Gary Richrath told Rolling Stone in 1978. "He wanted me to be like Peter Frampton, but Frampton wasn't that impressive a guitarist – someone to aspire to like [Jeff] Beck or [Jimmy] Page, [Pete] Townshend or [Eric] Clapton."
Azoff said he didn't "consider them a failure," in the same report. "I always believed in them and still do."
But even Cronin had grown weary of the things the band had to do just to maintain their level of regional success. He joined REO in 1972, recorded that year's R.E.O./T.W.O. with them, toured incessantly – then was out of the group a year later.
Watch REO Speedwagon's 'Rolling With the Changes' Video
"If you talk to me, I'll tell you that I left," Cronin told Creem. "If you talk to the band, they'll tell you I was kicked out, so it depends on who you talk to. I was feeling unappreciated and unhealthy, vocally. It was demanding on me vocally and I didn't know how to do it. The band would want to play every night and rehearse every day and, on a physical level, my voice couldn't handle it."
Cronin returned in 1976, in time to experience REO Speedwagon's initial success with a 1977 concert double album. Live: You Get What You Play For eventually earned the band its first platinum certification but, more importantly, captured what Cronin and Richrath felt was their true sound.
No producer had ever been able to replicate their on-stage energy and tightness in the studio. "Some of the early records had good tunes on 'em," Cronin told Creem, "but they came out sounding weird because the producer had a different image of what the record should sound like."
He and Richrath thought it was time they took a shot at producing themselves on REO Speedwagon's next studio record, 1978's You Can Tune a Piano, but You Can't Tuna Fish. They called a meeting with the leadership of their label and presented Epic Records with an ultimatum: Cronin and Richrath would produce the album, or they'd leave. The reaction was unexpected.
"To our surprise, they were like, 'Okay!'" Cronin said on Adam Reader's Professor of Rock program. "Gary and I were looking at each other, going like, 'Now what do we do? We don't know how to produce records. What are we talking about?'"
Thankfully, Cronin and Richrath found an ally in Epic's West Coast vice president, who ended up serving as executive producer on Tuna Fish. "John Boylan is one of my favorite people in the world," Cronin told Reader. "He was in the studio and rode shotgun, in case we needed him. So we felt pretty safe going in there producing that record."
Listen to REO Speedwagon's 'Lucky for You'
REO Speedwagon also had some new blood in the lineup, as Bruce Hall replaced bassist Gregg Philbin, who had left the previous year. "I had known Bruce since the early '70s, saw him singing with his band at the old Red Lion, which was the coolest bar in Champaign, Ill.," Cronin said in Songs & Stories from Camp Cronin.
They later "met Bruce at a party at [REO drummer] Alan Gratzer's apartment," Cronin added. "He had started singing some harmony with me on some Beatles songs, and our voices sounded pretty good together. I got a good vibe from Bruce right away. So when Gregg Philbin left the band, it was a no-brainer for me, man. The first phone call went to Bruce."
The band went into the Tuna Fish sessions with a brace of songs they believed in. One of the first they tackled was "Roll With the Changes." The song's genesis came, appropriately enough, from a moment when Cronin was in motion.
"I was literally moving from Chicago out to L.A. because the band had moved while I was out of the group, so it was like if I'm going to stay in the band and I want to be with them, I guess I'm moving out to L.A.," he told Reader. "I decided if I am going to move there, I'm not going to do it on an airplane; I want to feel the earth move under my feet. So I drove an old blue Pinto station wagon, with a U-Haul trailer in the back, from Chicago to L.A.
"Somewhere around Albuquerque," he added, "I started having this idea, and the only thing I had was this brown paper bag with some munchies in it that I had gotten at a truck stop. So I am literally driving down the freeway, with a U-Haul trailer behind me, kind of jotting the words down on this paper bag, because I was literally rolling with the changes."
Issued as the first single released from You Can Tune a Piano, but You Can't Tuna Fish, "Roll With the Changes" hit No. 58 on the Billboard Hot 100 singles while becoming one of REO Speedwagon's most indelible songs.
Watch REO Speedwagon's 'Time for Me to Fly' Video
Another journey from years before inspired Cronin to write the second single, "Time for Me to Fly." This road trip was meant to help him decompress from a romantic breakup. "It was my first heartbreak … my first girlfriend," he told Reader. "I had to get away from Chicago. A friend of mine said he was driving out to Boulder, and I'd never been to Colorado."
His friend was a musician, "one of the few guitar players that I knew from high school," and when they arrived Cronin found "a guitar sitting on his porch, and I picked it up and I went to play it, and I hit a chord and it sounded hideous. The guitar was so out of tune. I just started messing around with it, and I realized he had it in an open tuning; I didn't even know where an open tuning was.
"So I started messing around with it," Cronin added, "and I remembered Richie Havens at Woodstock when he was playing 'Freedom' with his thumb wrapped around the top of the guitar neck. And I thought, maybe I'll try that. So I did, and that's where the original riff for 'Time for Me to Fly' came from."
The single topped out at No. 56 on the Billboard Hot 100, becoming REO Speedwagon's biggest to date.
Other songs on You Can Tune a Piano, but You Can't Tuna Fish mined the country rock that had landed bands like Poco and Pure Prairie League on the charts and radio playlists. "Do You Know Where Your Woman Is Tonight," for example, is classic jukebox fodder that sets Cronin's anxiety and jealousy against a pleasant melody, with piano and loud guitar way up in the mix. "Lucky for You" cranks the guitars up even louder, while giving Richrath and keyboardist Neal Doughty plenty of soloing space at the end.
Listen to REO Speedwagon's 'Do You Know Where Your Woman Is Tonight'
Cronin wrote the uber-positive "Blazin' Your Own Trail Again" on a drive to one of his last gigs as a solo performer. "I pulled off the road, saw a trailhead and hiked into the forest," he said on Songs & Stories from Camp Cronin. "It just made me start thinking about the journey I had been through during the couple years I was away from REO Speedwagon – everything I'd learned and how thankful I was to be back in the band, kind of back on the right path. Somewhere during that hike, I came up with the idea that really I was blazing my own trail again – and I wrote the song."
REO transformed "Blazin' Your Own Trail Again" into the perfect combination of country-rock and hard-rock influences, with acoustic guitar providing complementary texture to Richrath's face-smacking electric rhythm guitar and tasteful solo.
In the end, the album became representative of what Richrath would be best known for, in terms of tone and the unique bird-like effect he used while soloing. "Everything I wanted to copy from Jeff Beck, I'd done," Richrath told Guitar Player in 1982, "so I started getting more into harmonics and chirps. My first nickname was 'Marshall Chirpman,' because I used Marshall amps. I had enough confidence in my ability that I wasn't afraid to do something slower – prettier and more melodic. That's how I approached the guitar on You Can Tune a Piano but You Can't Tuna Fish."
Released on March 16, 1978, the Top 30 hit album would be certified double platinum for sales of over 2 million units in the U.S. alone.
Listen to REO Speedwagon's 'Blazin' Your Own Trail Again'
Overall, Richrath was happy with the results. "On Tuna Fish," he concluded, "I liked what I was doing: I was playing in the right keys [laughs] and doing all the stuff a good guitarist is supposed to. The band was in control. I was in control of myself, and I knew where I wanted to go musically."
All this solid music was packaged inside an impish cover that featured a presumably dead tuna with a tuning fork jammed into its mouth, and a name that seemed likely to have emerged from a Borscht Belt comedy act. In reality, the title emerged from a situation that only a rock band would experience, as a friend nicknamed Pineapple arrived at a party with some "creative accelerant."
"He came to our hotel room and ripped the mirror off the wall," Cronin told a Chicago radio interviewer in 1978, "and laid it on the bed, and proceeded to spell 'REO' in some substance I don't want to mention." Richrath interjected: "But don't sneeze over it," then Cronin continued. "And by about halfway through the 'E,' we had solved the problems of the universe," he said.
When they "finished the last particles of what makes you solve the problems of the universe," Richrath added, "[Pineapple] goes, 'Remember – you can tune a piano, but you can't tuna fish.' Me and Cronin both fell off the bed laughing, and that's what we used for a title."
How 100 of Rock's Biggest Acts Got Their Names
From AC/DC to ZZ Top, we give you all the ammo you need to be the biggest know-it-all in town.