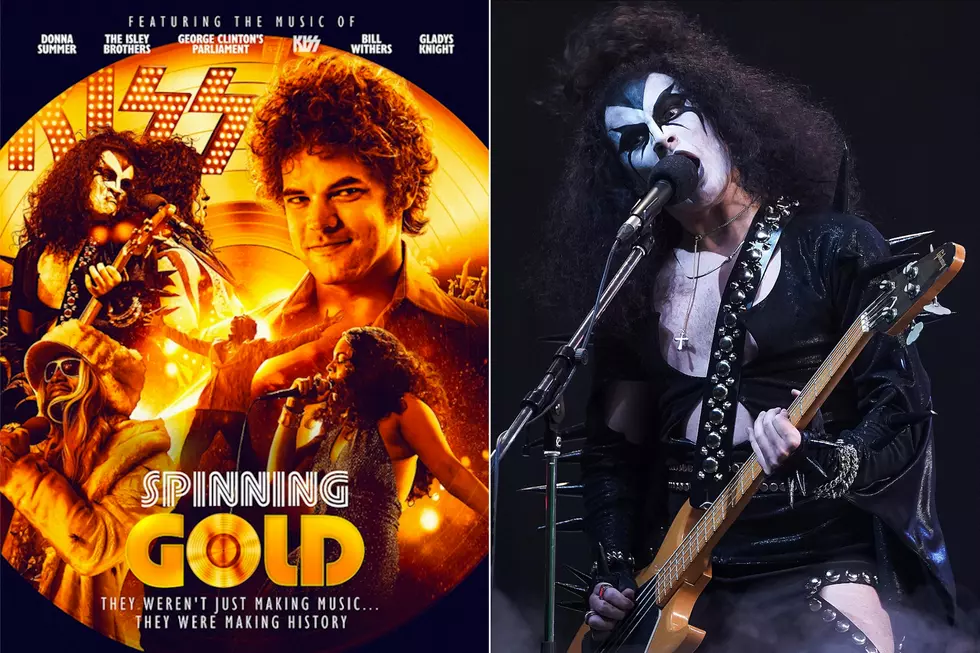 'Spinning Gold' Director Discusses Kiss' Early History: Exclusive
Courtesy of Spinning Gold / Hero Entertainment
Disco and soul music are certainly a focus of Spinning Gold, the new biopic of late record executive Neil Bogart and his Casablanca Records. The label launched the careers of Donna Summer, Village People, Lipps, Inc. and more, and is credited with bringing then-underground dance music into the mainstream during the mid-'70s.
But Casablanca's first act was Kiss, and Spinning Gold director and screenwriter Timothy Scott Bogart, Neil's son, hasn't forgotten that. "Gene [Simmons] and Paul [Stanley] and Ace [Frehley], those guys were around the house all the time," Bogart tells UCR. "There was no distinction between business and family. It was a family business, and that extended to the musical acts. Donna Summer was my aunt. Her kids were my sisters. It was a magic carpet ride."
Were it not for Kiss, the younger Bogart's musical orientation would likely have been different. "There was a moment when I was living with my mother after my parents were divorced, bouncing back and forth between Boston and L.A.," he relates.
"To dig at my dad a little, my mom started me playing the violin. I flew out to L.A. to visit my dad and went from LAX directly to Casablanca with my little violin in hand, in the case. Dad said, 'What's that?' 'Oh, I started taking violin.' He doesn't say anything and makes a phone call. Fifteen minutes later, Gene Simmons walks in. 'What's that?' 'That's a violin.' He takes the violin and just shatters it, then hands me a 1958 Les Paul Deluxe bronze stock and a little Pignose amp and says, 'You're gonna play rock 'n' roll.' I still have that guitar, and it still sounds great."
Watch the 'Spinning Gold' Trailer
The ride wasn't always smooth for Kiss and Casablanca, as Bogart depicts throughout Spinning Gold, which opens in theaters today. Signed to the label in 1973, the band was a money pit, costing the company millions of dollars until it broke through with the Alive! album in 1975.
In Spinning Gold, Bogart recreates a disastrous 1973 Casablanca launch party at the Century Plaza hotel in Los Angeles that ended prematurely when Kiss' pyrotechnics set off the fire alarm and sprinkler system. Other scenes reveal tensions between the band and Neil Bogart — who died in 1982 from cancer at the age of 39 — over conflicts of interest as he began an affair and ultimately married Kiss co-manager Joyce Biawitz.
"At that time, Gene and Paul were legitimately and understandably concerned about my father's relationship with their manager," Bogart says. "That created a conflict, no question. Gene and Paul felt they should have all the money, all the tour support. They may be right, but Casablanca had spent all the money on the planet on that band, and money [the label] didn't have."
Watch a Scene From 'Spinning Gold'
Bogart says he consulted Simmons and Stanley during the making of the film — which spanned 24 years — especially about getting the look of Kiss correct for the period. He recruited musicians to play the band members as well, including X Ambassadors' Sam Harris as Stanley, All Time Low's Alex Gaskarth as Peter Criss and newcomer Casey Likes as Simmons.
Gaskarth sings "Beth," while Harris and Likes sing "Rock and Roll All Nite" for the Spinning Gold soundtrack. Broadway actor Jeremy Jordan stars as Neil Bogart, a role that Justin Timberlake was once attached to; other artists in the film include Wiz Khalifa (as George Clinton), Jason Derulo (Ronald Isley), Tayla Parks (Donna Summer), Ledisi (Gladys Knight) and Pink Sweat$ (Bill Withers).
Bogart and his brother, Evan "E. Kidd" Bogart, who composed the original song "Greatest Time (Spinning Gold)" for the film, have also created a stage musical based on their father's story that they hope will open on Broadway in spring 2024.
Rock Stars Whose Lives Are Being Turned Into Movies
'Bohemian Rhapsody,' 'Rocketman' and 'The Dirt' have opened the floodgates.