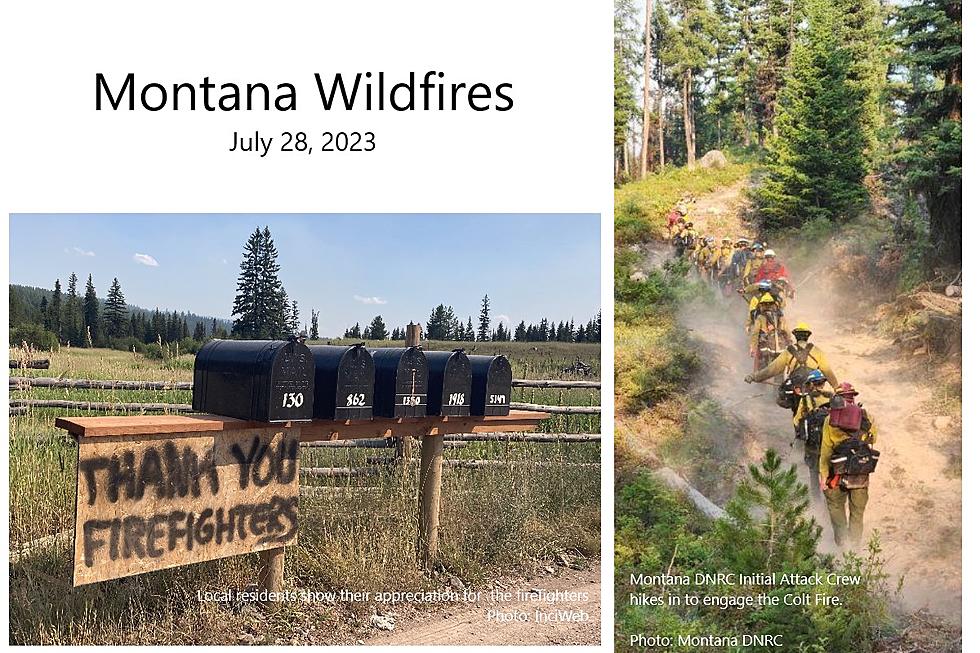 Lightning Strikes, Firefighters Pounce
Photo Credits, Montana DNRC & InciWeb. Graphic by Anne James
The 2023 wildfire season is young yet, but  here's to all of the volunteer and professional firefighters who are doing a great job in meeting the challenge.
The DNRC wildfire map indicates 34 active fires in the state, ten reported in just the past 24 hours. Of those 34, most have been quickly dealt with and held to under 10 acres.
There are three major fires burning in western Montana, and here is the latest information on those fires, from InciWeb and other sources:
COLT FIRE
A Temporary Flight Restriction (TFR) has been implemented over the area of the Colt Fire, which has grown to 5252 acres. The Condon airstrip has been closed for general aviation. This allows for firefighting aircraft to safely work over the fire area and the Condon airstrip is being used as a firefighting helicopter base. Pilots in the area should check these NOTAMs and follow all directions for both public and firefighter safety.
Yesterday (Thursday), fire activity was observed as moderate while temperatures continued to trend a few degrees warmer and relative humidity levels dropping lower. The overnight infrared flight mapped the fire at approximately 5,252 acres in size, increasing by 315 acres.
Yesterday, on the east side of the fire along Forest Road 646 (Colt/Uhler Road) burning operations progressed well.  The intent of this operation is to further secure the road's use as a primary fire control line.  Crews continued working to secure the spot fires in the area that ignited east of Forest Road 646 earlier in the week. On the fire's north side, a Heavy Equipment Task Force and hand crews continued work reducing vegetation along Forest Road 906 (Beaver Creek Road) in preparation for burning operations. Personnel also searched the west flank for opportunities to construct fire line in locations that have a high probability of success to contain the fire. On the south side, crews worked directly on the fire edge, anchoring from constructed dozer and hand lines.  Additionally in this area, two spot fires were discovered and secured.  South Structure Protection worked on structure assessments on the east side of Lake Inez. North Structure Protection engines assisted in operations along Forest Road 646 (Colt/Uhler Road). Helicopter bucket water drops were effectively used to cool hots spots as needed.
BOWLES CREEK FIRE
Information on the Bowles Creek Fire has not been updated since Wednesday, when the fire was estimated at 1698 acres.
At that time, the Idaho Panhandle Hot Shots were building containment lines along Forest Road 711 on the west side of the fire,  by removing thick underbrush and vegetation. Heavy equipment and masticators (machine for grinding or pulping material), will work on opening up forest roads and work on fireline construction. Previous firelines and dozer lines constructed in the 2022 Hog Trough fire are being utilized. On the east side, crews continue building fireline along Forest Trail 313 to minimize spread and give time to implement suppression objectives. Heavy equipment, including a chipper (machine capable of reducing tress to wood chips) and a feller buncher (a machine with a cutting head that is capable of holding more than one tree at a time) continues work creating fuel breaks on Forest Roads 5070 and 5071. Fire personnel are utilizing helicopter support north of Bowles Creek to slow fire growth of various spot fires.
BIG KNIFE FIRE
The Big Knife Fire grew by over 200 acres in the past 24 hours, and was mapped this morning at 631 acres. The fire is burning on the Flathead reservation near the town of Arlee. As of last evening, there were no evacuations orders in place, and no structures considered threatened by the fire.
IDAHO FIRES
There are several large fires burning in Idaho, two of them within a few miles of the Montana border.
The Hayden Fire started on Wednesday, July19th,and is located in the Lemhi Range, 18 miles west of Leadore, Idaho. Fire cause is undetermined.
The Little Bear Fire was detected on July 3rd in steep and rugged terrain, with high density of snags from the Freezeout Fire that burned in 2012. As of July 28, the Little Bear fire is still approximately 771 acres and burning downhill, cleaning up dead and down logs that have fallen since the 2012 fire.  The fire is one mile south of Highway 12, near the Jerry Johnson Campground.