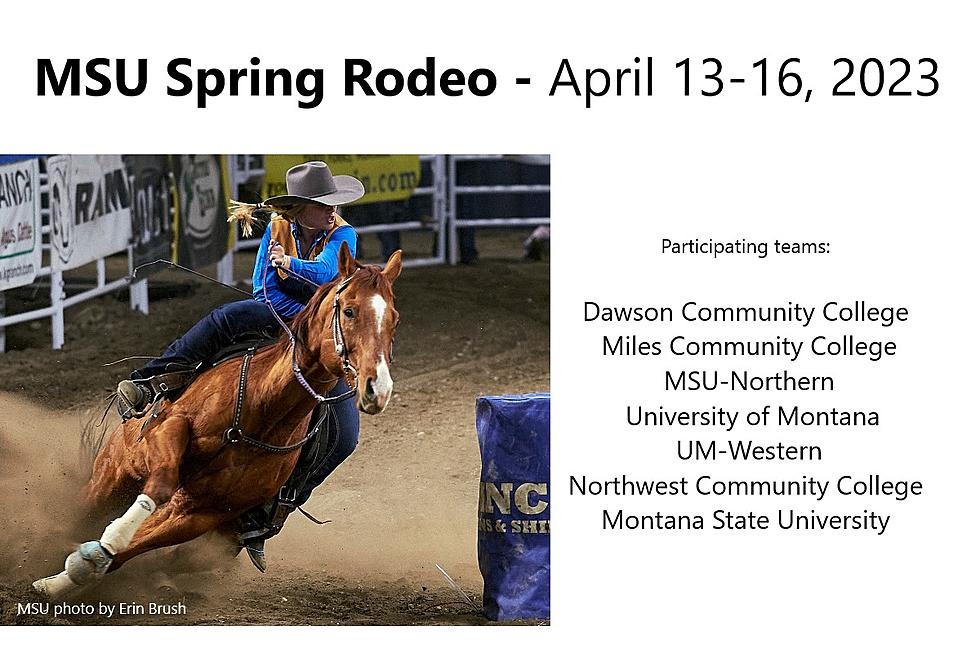 MSU 2023 Spring Rodeo Happening April 13-16
MSU photo by Erin Brush. Graphic by Anne James
BOZEMAN – The 2023 Montana State University Spring Rodeo will run Thursday, April 13, through Sunday, April 16, at the Brick Breeden Fieldhouse.
The action begins at 7 p.m. Thursday with performance rounds. Attendees are encouraged to show up in blue and gold attire to support the event's "College Night." Friday and Saturday slack rounds will start at 10 a.m., and performance rounds will begin at 7 p.m. Sunday is "Champion Sunday," and the short-go performance will kick off the day's events at 1 p.m.
This year, all seating is reserved. Tickets for a single day range in price from $8 to $25, and tickets for the entire weekend range from $66.50 to $81. Children ages 2 and under are free if sitting on a guardian's lap. To purchase tickets, click HERE.
The four-day rodeo will feature MSU men's and women's teams competing against six other Big Sky regional teams: Dawson Community College, Miles Community College, MSU-Northern, the University of Montana, UM-Western and Northwest Community College in Powell, Wyoming.
Bobcat rodeo team's head coach Kyle Whitaker said his teams are looking for another regional championship before the College National Finals Rodeo begins in June, and he urges local fans to come out and support the MSU teams.
"The women's and men's teams are excited and ready to compete in front of the legendary Fieldhouse crowd," Whitaker said.
For those who want to watch at home, the rodeo will be livestreamed. Links to watch can be found on the MSU Rodeo website, MSU Athletics website, ESPN+ (TV provider subscription required), the Brick Breeden Fieldhouse website, and Sunday's short-go performance will be televised by SWX across Montana. The MSU Rodeo Team's schedule can be found at msubobcats.com.
For more information, visit the MSU Rodeo Facebook page or the MSU Rodeo website.