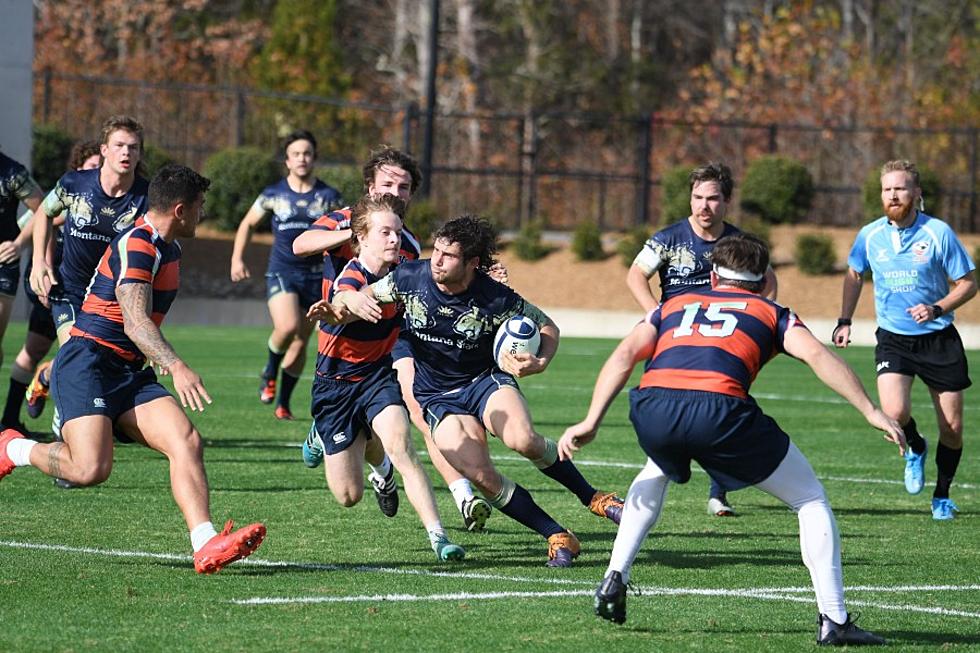 MSU Club Rugby Team Makes National Title Game Appearance
MSU has won the Rocky Mountain Conference four consecutive years – winning the conference guarantees a team a spot in the national playoffs – and is regularly nationally ranked. - Photo courtesy of MSU men's club rugby team.
BOZEMAN — The effects of COVID-19 on college athletics were still being felt in 2021 with some seasons canceled, players missing time due to positive cases and scheduling conflicts for games and matches.
The Montana State University men's club rugby team felt the sting from COVID-19 in its own 2021 fall season. Opposing universities had difficulty fielding teams and dealing with states' COVID-19 guidelines. On top of it, half of MSU's team and executive board graduated in 2020 and new members had to be found.
Despite the disruptions, the rugby team made strides and appeared in its first-ever College Rugby Association of America men's Division II national title game at the CRAA Fall Classic in early December. The Bobcats faced Auburn University and lost 31-12.
For junior Jackson Ellbogen-Pettersen, in his first year as team president, the 2021 fall season was about rolling with the punches and putting in the work to be successful.
"On the field there were a lot of holes for people to step up and fill, and off the field we have an executive board in charge of the operations and financing of the team and over half the positions needed to be replaced or filled," said Ellbogen-Pettersen, who is an open side flanker for the team and a mechanical engineering major. "It was guys training new members for positions they never had before. It was a big developmental stage for us, and we all really stepped up."
Ellbogen-Pettersen said MSU came out strong and commanded the ball for the first 25 minutes of the match. The Bobcats struck first, with flyhalf Connor Ericksen scoring a try to make it 7-0. Auburn found its groove and took a 12-7 lead into halftime. Auburn scored 19 straight points on the Bobcats to secure its national title. Ellbogen-Pettersen said MSU suffered significant injuries to two of its players in the second half, tough losses the team couldn't overcome.
Despite the loss, Ellbogen-Pettersen said he was pleased with his team for taking on a tough opponent they had never faced before.
"I couldn't be more proud," Ellbogen-Pettersen said. "Especially with our captains stepping up and even our new members. We had a freshman come off the bench and score a try in the national championship in the second half. Can't ask for more effort."
The rugby team has a history of on-field success. MSU has won the Rocky Mountain Conference four consecutive years – winning the conference guarantees a team a spot in the national playoffs – and is regularly nationally ranked. Last year, MSU was ranked 11th nationally in a five-year ranking of Division II college teams by a national rugby website.
This year, the postseason format was unique and altered due to COVID-19. Instead of playing in a playoff bracket, the top two teams in the country automatically qualified for the title game. Ellbogen-Pettersen said this was because COVID-19 restrictions and travel woes led to a lack of teams playing. Auburn was ranked first in the nation and MSU second.
"Preparing for a team like that was especially difficult this year coming off of COVID," Ellbogen-Pettersen said. "In the Rocky Mountain Conference, a lot of teams really took a hit because of the pandemic, so a lot of our competition was not all that up to par. Getting ready for a much higher-level game was certainly a challenge. And we won the conference in late October, so that gave us a month of no scheduled games to fill. We tried as hard as we could to fill that with games, but it didn't work out."
As a club, the rugby team had to fund its way to the national title game, which was held near Charlotte, North Carolina. With only a month to make it work and a whole new executive board, the team raised $16,000.
"We had a lot of help from the community and want to thank them again for their generosity," Ellbogen-Pettersen said.
Rugby is broken into two seasons, 15-player teams in the fall and seven-player teams in the spring. Because MSU made the 15-player national title game, the team automatically earned a spot in the playoffs for the national spring championship. Ellbogen-Pettersen said the team has paused for the month and will come back in January to prepare for the playoffs, which begin April 30 in California.
"It's a huge motivator in and of itself and it really means no break," Ellbogen-Pettersen said. "We're all going home for the holidays but that means hitting the weights and training as hard as we can and until we're back. We got another shot."
- by Meaghan MacDonald-Pool, MSU News Service -