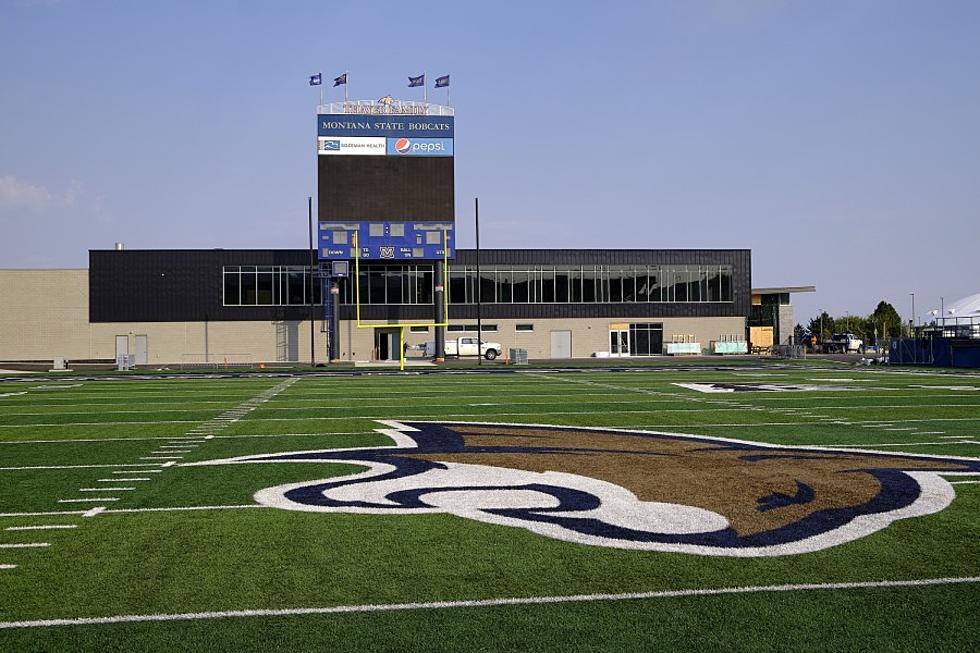 MSU Homecoming Includes Oct. 8 Grand Opening for Bobcat Athletic Complex
MSU/Kelly Gorham
LISTEN LIVE: Bobcats Host Cal-Poly Sat. Oct 9 at 2:00pm on KSEN 1150am
BOZEMAN — For the past year, passersby on Kagy Boulevard could see a flurry of construction at Bobcat Stadium and glimpse the future of Montana State University Athletics.
The construction at the north end zone has been for the new Bobcat Athletic Complex, a 40,000-square-foot-facility that will provide student-athletes with study spaces, locker rooms and team meeting rooms, as well as training, health and rehabilitation facilities. It will also house the football program, including offices for coaches and staff.
The community will have an opportunity to see the completed facility at its grand opening at 4 p.m. Friday, Oct. 8. The event includes an open house, where attendees may view the building, its amenities and more. The grand opening coincides with MSU's homecoming weekend, when Bobcat football will host Cal Poly at 2 p.m. on Saturday, Oct. 9.
The grand opening will also include remarks from speakers and a ribbon cutting. Afterward, attendees can visit stations in the building, where guides will answer questions related to the space, athletics and more.
Athletics Director Leon Costello said the opening is a great opportunity for Bobcats old and new to return to campus and celebrate Athletics' bright future.
"We want to give as many people as possible an opportunity to see the BAC," Costello said.  "They can take a tour then go downtown for the pep rally to really make Friday a true homecoming day."
The BAC is part of Phase I of the Athletics Facility Master Plan, which was published in 2017. This 20-year plan for MSU's athletics facilities envisions renovating and constructing facilities, such as an indoor performance facility and tennis and golf center, to serve student-athletes and fans.
"It's been a long time coming to get to this moment. It's exciting to go from developing the master plan to finally seeing one of the projects come to fruition," said Costello, who has been at MSU since 2016. "And not just to have the BAC done, but to really see the impact it will have on our student-athletes and programs. The facility is really about how it's going to change the way (student-athletes) operate and what it can provide them."
Thanks in part to 525 donors, the BAC raised the needed $18 million in just two years. MSU President Waded Cruzado thanked the MSU community for its support.
"MSU loves its loyal Bobcats and we are truly grateful to all who are devoted to the well-being of our student-athletes," Cruzado said. "This is a giant step into a bright future for MSU Athletics, and I am excited to see what current and future generations of Bobcats will do on and off the field."
Highlights of the BAC include a weight room; athletic training room; a hydrotherapy space with hot and cold plunge pools and underwater treadmill for lower-body injury recovery; and an attached Bozeman Health clinic for easy access to team doctors and athletic trainers. Costello said all the amenities are for all MSU teams to use.
Costello said the features of the BAC will help student-athletes be more efficient with all the things they must do — from weight lifting and team meetings to study sessions and visits with trainers — so they can save time and spend it wisely in the classroom and so they can get proper nutrition and sleep.
The MSU football team partially moved into the BAC on Sept. 10 ahead of the Gold Rush football game. With about 125 players and coaches vacating spaces in the Brick Breeden Fieldhouse, Costello added, the BAC gives other teams more room and allows for football's former space to begin an immediate transformation into a larger academic center.
"This move can only increase the academic support we provide our student-athletes," Costello said. "Of course, we are a Division I athletics program and we want to win games and championships, but our job is to recruit student-athletes who are prepared to come to college at MSU and be prepared to succeed."
MSU football head coach Brent Vigen said having the team in the BAC is helpful in myriad ways. The team no longer has to walk across Kagy Boulevard between their locker room and the field. They can also focus more on preparing for games, practicing, strength training and team meetings all in one place.
Vigen added that the BAC is also a recruiting tool, demonstrating the investment MSU has in its student-athletes' physical, educational and personal well-being. Vigen was hired this season working as the offensive coordinator at the University of Wyoming and North Dakota State University. He said the BAC is easily comparable to facilities for the top programs in the Football Championship Subdivision, where NDSU and MSU compete, and even some Football Bowl Subdivision teams.
"This is going to benefit all our student-athletes," Vigen said. "And as a student-athlete or as a coach, if you feel like your university is invested in you, then your willingness to give everything back is that much more. Your ability to become your best is that much more."
Details about the Athletics Facility Master Plan are available online.