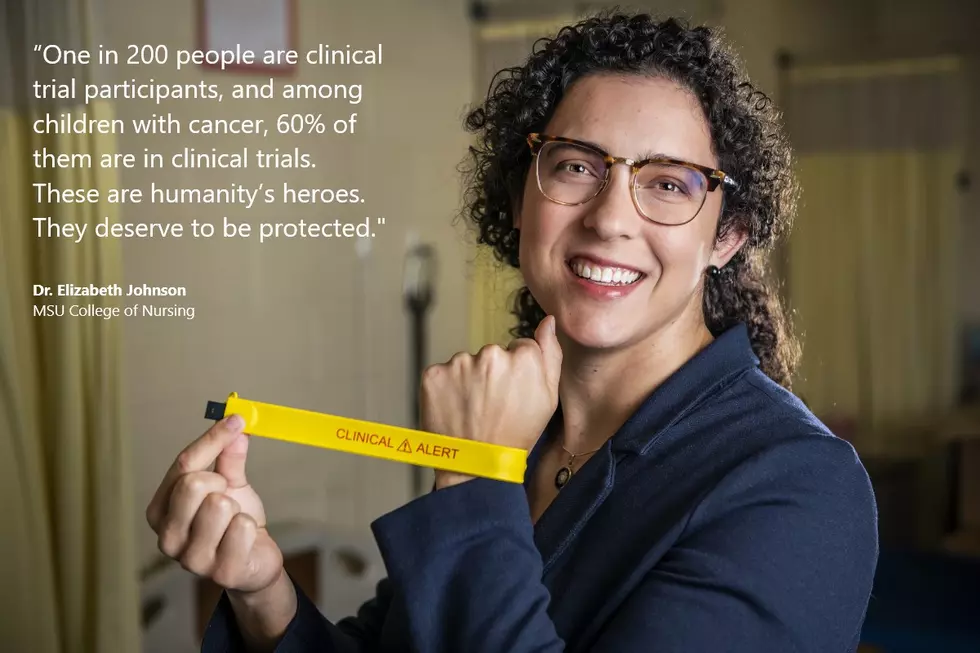 MSU Nursing Professor Recognized for Technology to Improve Safety of Patients in Clinical Trials
Elizabeth Johnson, assistant professor of nursing. /MSU photo by Colter Peterson.
BOZEMAN — When Elizabeth Johnson worked as a research nurse in Houston with pediatric patients in clinical research trials, too often, she said, she would see a patient get injured or be removed from a study because of a breakdown in communication between clinicians and researchers.
Years later, one moment in particular has stuck with Johnson, who is now an assistant professor in Montana State University's Mark and Robyn Jones College of Nursing. One child was removed from a study, Johnson recalled, after a clinician gave the child a medication that was not allowed according to the research protocol.
The child's mother asked Johnson: "What did we do wrong?"
"It gutted me," Johnson recalled of the question. "I didn't have a good answer. Researchers are used to being uncomfortable with the unknown. But this is one where I couldn't make friends with it. I didn't know why it happened."
Later, Johnson began working as a research nurse in adult oncology. She noticed the same things happened with adults: Too often, those patients were removed from clinical trials, too.
As she worked toward a master's degree, Johnson started sketching out what she had observed as a research nurse. She asked herself what the real problem was. She came to believe that the root cause was a disconnect between researchers and clinicians.
"It came down to effective communication," Johnson said.
Since recognizing that problem Johnson has devoted a considerable portion of her career to addressing it. To improve the safety of patients participating in clinical trials, Johnson has created a wearable device that she describes as a bridging technology to help clinicians and researchers communicate about safety related to a clinical trial.
The device – which looks like a simple wristband – has a USB connector that can be plugged into a computer, which then takes the user to a software system that provides a wealth of information about medication side effects, details about a particular trial's guidelines and more. The technology also connects the clinician with the researcher via text, so that they can more easily communicate with one another and ask and answer questions.
Her efforts are getting noticed: This summer, Johnson was awarded a NursePitch $10,000 first prize from the American Nurses Association. The event featured nurses from across the country sharing their innovations and creative ideas around medical device or technology, organizational process improvements, care delivery, research and/or education interventions.
Taking first prize "felt like this huge validation that what I was looking at mattered, and it also was this huge win where I was able to raise awareness for clinical trial participants," Johnson said.
The bridging technology is important, Johnson said, because there currently isn't a good system in the U.S. for connecting patients' health records with clinical research care, and the stakes can be high. She noted that trial participants are exposed to significant risk that may come with drug interactions because the trials are experimental by nature. It's possible that the experimental treatment being tested might interact with a drug that a clinician might not have considered. The consequences could range from injury to removal of the participant from the study (thus also removing the treatment's possible benefit to the patient), to a severe reaction or even death.
"My goal (with this wearable technology) is to stop those injuries and fatalities from happening by creating a way we can better communicate with one another," Johnson said. "I didn't want to add another app that requires training. This is all about helping facilitate communication between two people who have a common goal of patient safety."
Johnson has been working with Jace Zavarelli, an MSU undergraduate student studying computer science, to develop the software and program the workflow sequence when a clinician plugs the wristband into their computer.
The device is now under a provisional patent. This fall, Johnson is working with 60 Montana nurses to evaluate the software.
"We're looking at what the nurses would want to change to improve the device," Johnson said. "We call it participant-led design, where nurses help design the final product."
After the product is evaluated and patented, Johnson – with help from the MSU TechLink Center – intends to commercialize the device.
Johnson hopes to focus on getting the device into use in rural Montana first.
"Seventy percent of clinical trial participants live two hours or more away from a research center," Johnson said. "I'd like to look at (using this device to help) those who would be affected most first."
Johnson noted that MSU's Technology Transfer Office, which is part of TechLink, has been helpful as she has worked on the technology. For example, staff members encouraged Johnson to apply for CATalyst Gap Funding offered by that office, and she was subsequently awarded $20,000 to advance the technology toward commercialization.
Johnson also called MSU's Blackstone LaunchPad a valuable resource, and she took second place earlier this year in the third annual $50K Venture Competition at MSU.
The Tech Transfer Office and LaunchPad also introduced Johnson to a program she is participating in this year hosted by the University of Washington and offered by the National Science Foundation, called Innovation Corps, or I-Corps. This MSU partnership with the University of Washington aims to accelerate academic research toward commercialization.
Sarah Shannon, dean of the Mark and Robyn Jones College of Nursing, called Johnson's technology "innovative yet pragmatic."
"Dr. Johnson brings a very unique design and technology perspective to the delivery of nursing care," Shannon said. "She is an exceptional nurse researcher, and this award (from the NursePitch competition) highlights the importance of her innovation."
Johnson, who came to MSU in January, has a Ph.D. in nursing science, a master's degree in clinical research management and a bachelor's degree in nursing.
She noted that it's gratifying to develop technology that will benefit clinical trial participants, who are a "huge, unsung" part of the population.
"One in 200 people are clinical trial participants, and among children with cancer, 60% of them are in clinical trials," she said. "These are humanity's heroes. They deserve to be protected.
"It has been wonderful to be able to raise awareness for them and for nurse entrepreneurship and nurse innovators," she continued. "I'll be so happy if this technology can keep one more patient on a (clinical) trial."