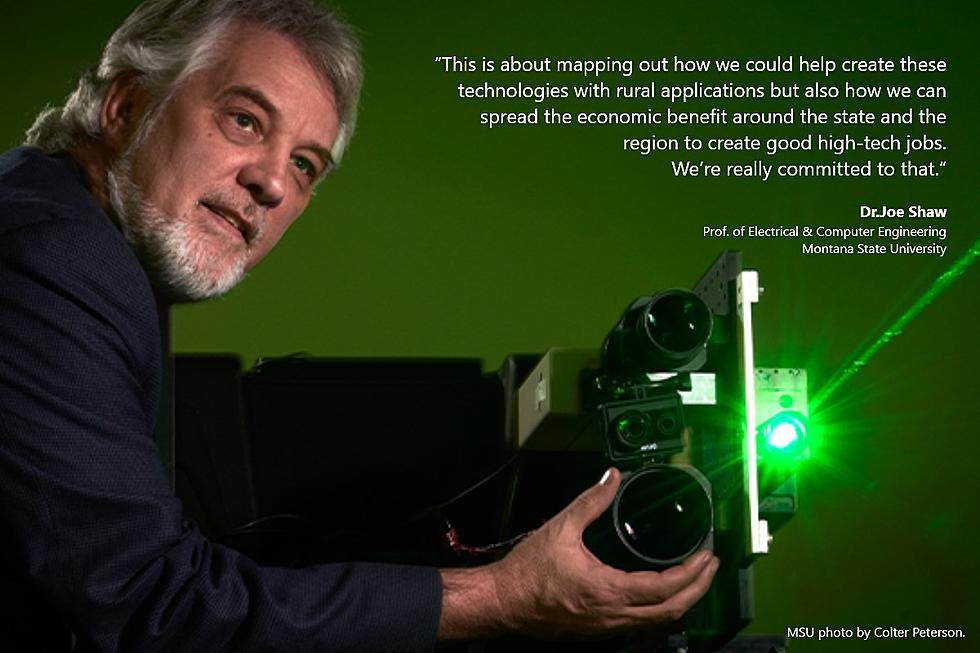 MSU Part of $1M Grant to Boost Regional Ag & Tech Economies
MSU photo by Colter Peterson. Graphic by Anne James
BOZEMAN — As part of a new project funded with $1 million from the National Science Foundation, Montana State University will explore ways to leverage its expertise in photonics to grow a regional economy for precision agriculture and other technologies involving autonomous systems.
MSU is receiving roughly $180,000 of the two-year funding through NSF's Regional Innovation Engines program. The project will support a variety of outreach and strategic planning efforts seeking to nurture the development and production of tools such as optical sensors that could be used to guide self-driving farm machinery and monitor crops. The University of North Dakota is leading the project, which includes MSU as well as the South Dakota School of Mines and Technology and Boise State University.
"This is an exciting opportunity for MSU because we have world-class expertise in the kind of optical technologies that are the key to making these smart-sensing autonomous systems work," said Joseph Shaw, distinguished professor in the Department of Electrical and Computer Engineering in MSU's Norm Asbjornson College of Engineering, who is leading the MSU portion of the project. "We're in a position where, in two years, we want to be in the short list of places to go to when you need this kind of technology."
The project will identify the existing strengths and emerging opportunities for investing in technological research and development, workforce training and other ways of boosting the four-state region's ability to lead the industry, Shaw said. The project could lead to a much larger grant through the NSF Engines program to implement the group's recommendations.
MSU's research on lasers and other optical tools goes back to the 1980s and has helped spin off dozens of local companies, including some now making sensors for guiding self-driving trucks, mapping invasive weeds and more. Those and related technologies could allow for drones suited to applications in agriculture, self-driving farming machinery and other tools that could benefit rural communities, said Shaw, who directs MSU's Optical Technology Center, or OpTeC.
"This is about mapping out how we could help create these technologies with rural applications but also how we can spread the economic benefit around the state and the region to create good high-tech jobs," Shaw said. "We're really committed to that."
The MSU portion of the project will involve MSU's MilTech. Todd Daniels, senior team lead at MilTech, will help identify strategies for commercializing technologies. Paul Nugent, assistant research professor in MSU's College of Agriculture and a specialist in precision agriculture, will help guide the planning effort.
MSU is leading a related effort that also received a $1 million planning grant from NSF's Engines program this month. That project is focused on developing a regional economy for quantum technology, which is set to play a critical role in 21st century communications, computing and other fields.
"These NSF investments suggest that MSU expertise in both optics and quantum technologies has national importance and the potential to stimulate business development and high wage job growth in the region," said Alison Harmon, MSU's vice president of research and economic development. "It's exciting to see universities in neighboring states partner with MSU to advance regional goals in agricultural research and production."
- by Marshall Swearingen, MSU News Service -