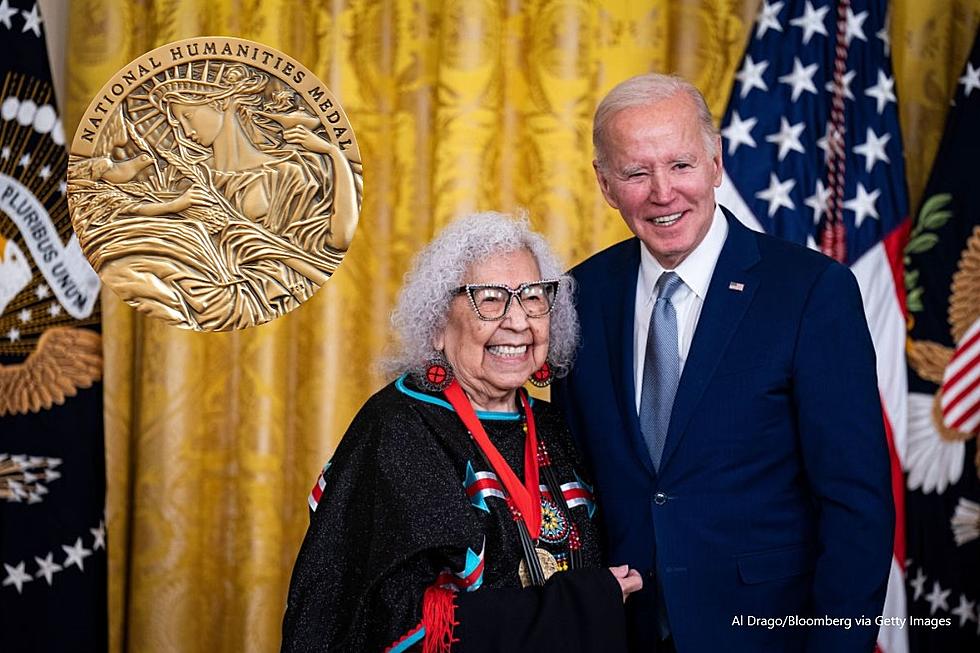 MSU Professor Emeritus Henrietta Mann Honored with National Humanities Medal
Photo by Al Drago/Bloomberg via Getty Images. Graphic by Anne James
BOZEMAN – Henrietta Mann, a member of the Southern Cheyenne Tribe of Oklahoma and professor emeritus of Native American Studies at Montana State University, was presented with a 2021 National Humanities Medal by President Joe Biden at the White House on Tuesday.
At the ceremony, Biden spoke of the ability of Mann – who is sometimes called the Native American Maya Angelou – to capture "the vastness of Native American life and its profound impact on the country" through a wide variety of media.
"Thanks in large part to her, Native American studies are now taught at universities across the country," Biden said.
Mann was one of 12 recipients of the award, which is presented to individuals or organizations whose work has deepened the nation's understanding of the human experience, broadened citizen engagement with history or literature, or helped preserve and expand Americans' access to cultural resources. Mann was specifically recognized "for dedicating her life to strengthening and developing Native American education," according to the White House citation prepared for the event.
Mann, now 88, spent more than 30 years as an educator before becoming the founding occupant of the Katz Endowed Chair in Native American Studies at MSU in 2000, which she held for three years. During her tenure, she helped then-MSU President Geoff Gamble with outreach to Montana tribes, which included the formation of the MSU Council of Elders, on which she continues to serve.
Walter Fleming, head of the Department of Native American Studies in the College of Letters and Science, said Mann continues to advise MSU President Waded Cruzado and the department on matters related to Native issues and cultural perspectives.
"She's a rare individual, in that she is very much connected to her own cultural and traditional community, but at the same time she's so highly respected in education that she brings it all to the table," Fleming said. "We can lean on her for questions about cultural propriety or different things we need to be considering because she knows the landscape of higher education."
Indeed, as Mann stated in a 2021 interview for MSU's Mountains and Minds magazine, she believes her purpose in life has been to teach as many students as possible about the beauty and tragedy of what it means to be an American Indian in the United States. After earning her doctorate from the University of New Mexico, she began her career teaching junior high and high school then went on to teach at the University of California, Berkeley, before becoming an assistant professor of Native American Studies at the University of Montana in Missoula, where she directed the program for 28 years.
Beginning in 1986, she worked at the Bureau of Indian Affairs, where she became the first Indian woman to direct Indian education programs. She returned to the classroom, and a few years later was ranked one of the top 10 college professors in the country by Rolling Stone magazine. In 2016, she spent a week as an elder in residence at the University of North Carolina, Chapel Hill, American Indian Center, where she taught, spoke and advised the administration on building an Indian student center, among other issues.
Similarly, Mann supported the efforts to that led to the construction of MSU's American Indian Hall, which opened in 2021. Fleming remembers her helping to persuade a legislative subcommittee to fund ongoing maintenance of the building, which was to be built with private funds.
"She told the committee that Indian people are very fond of giving gifts, and that a common gift was a horse. She said, 'When we gave a horse to somebody, we expected them to take care of it – to feed it and groom it and take care of it. We are giving a building to the state of Montana, and we expect Montana to take care of it.' The legislative subcommittee agreed that maintenance would be picked up by the state," Fleming said.
"She's articulate and so persuasive, but in the gentlest way, and you end up saying yes to a lot of things just simply because you want to please Auntie Henri," he added.
Providing an environment for Native students to learn about Indian history and culture has long been a passion of Mann's. The White House citation notes that the period during which Mann was beginning her teaching career was a heady one for Native American education. In 1969, Sen. Ted Kennedy issued a special subcommittee report calling the state of Indian education "a national tragedy" and a "national challenge."
Mann arrived at Berkeley the following year – a school described in the citation as one where "a new direction was taking shape, in which higher education would become an important vehicle for Native self-determination."
"The development of courses in Native American studies was one part of the story. The other part was institutional. In 1968, the first tribal college … was founded in Arizona, the beginning of a movement that would result in the founding of more than 40 other tribal colleges in the coming decades," the citation states.
It quotes Mann as saying, "We have to provide an environment for our young people that is consistent with who they are, so that they can take courses in American Indian history, culture, language, philosophy, spirituality, literature, our oral traditions, our stories, which hold so much of our history and culture within them."
Like Fleming, the White House took note of Mann's power as a speaker: "When she speaks – slowly, directly, and with mounting force, calling on her long memory as a person and a Cheyenne – (she) stops you in your tracks and makes you listen very closely."
MSU students are treated to such conversations with Mann whenever she visits campus, Fleming said.
"We all consider her to be a grandmother, and she takes that very much literally," he said. "When she is on campus, she's always sitting with the students. That's one of her great joys."
"She's always going to be with us, because the heart of pure learning takes place in the Dr. Henrietta Mann classroom in American Indian Hall," Fleming said. "She's had a great career, so we're just pleased to have been along for the journey."
- by Diana Setterberg, MSU News Service -