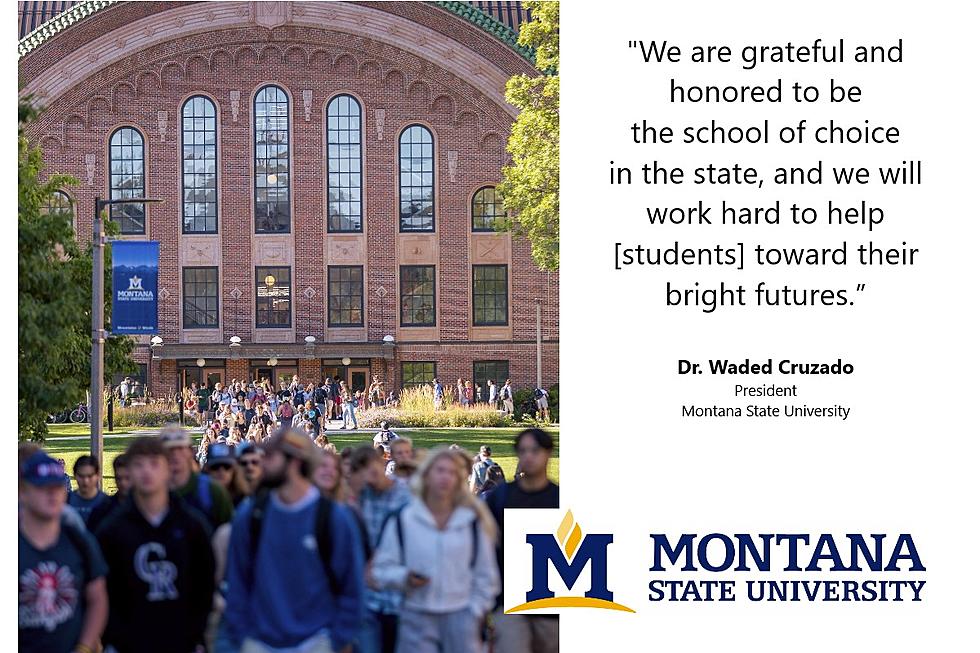 MSU Sets All-Time Fall Semester Enrollment Record
MSU Photo by Marcus Cravens. Graphic by Anne James
BOZEMAN – Montana State University's fall student enrollment is the largest in its 130-year history, with 16,978 students, up 2% over last fall's headcount, an increase of 290 students. MSU's previous enrollment record of 16,902 was set in the fall of 2018.
MSU's enrollment solidifies its position as the largest university in the four-state region of Montana, Wyoming and the Dakotas.
"A record student enrollment is a remarkable achievement and an opportunity for celebration at any time, but particularly nowadays," said MSU President Waded Cruzado. "It signals the trust these students and their families have placed in their land-grant university, Montana State. We are grateful and honored to be the school of choice in the state, and we will work hard to help them toward their bright futures."
Student headcount was not the only record set this fall. MSU also reported a record 906 students attending classes with Gallatin College MSU, which offers programs in career technical education and vocational training in five off-campus locations across the Gallatin Valley. The college's enrollment was up 21%, or 156 students, compared to last fall, making Gallatin College MSU again the university's fastest-growing college.
Gallatin College MSU collaborates with area industries to develop programs and responsive training to meet local workforce needs. Its programs are routinely full or have waitlists, in large part due to limited classroom and lab space. House Bill 5, passed by the 2023 Legislature, provided $23.5 million for a Gallatin College building, provided that MSU raises the other needed $22.5 million. MSU is working with the Office of the Commissioner of Higher Education on a plan for the facility, which will allow Gallatin College MSU students to learn at the main MSU campus, providing easier access to important services such as the library, tutoring and wellness.
Yet another record was set this fall in full-time equivalent — or FTE — enrollment at 15,411. FTE is calculated by dividing the total number of credits taken by all MSU students by 15, which is the number in a full-time course load.
A high FTE enrollment indicates more MSU students are taking more courses per semester, something the university has, for years, urged its students to do through its MSU Freshman 15 initiative.
MSU Freshman 15 encourages students to take advantage of tuition rules to save money on their education. Students do not pay tuition for credits beyond the first 12 they take per semester, so 15 or 18 credits costs the same as 12. Taking more credits per semester means students will make swifter progress and graduate on time, according to Steve Swinford, MSU's vice president for student success.
"The FTE record is exciting because it means our students are really engaging with their academic programs," he said. "That means they'll ultimately graduate sooner and with less college debt or no debt at all, allowing them to get a jump start on their careers."
This fall, 81% of new, first-time students and 64% of all undergraduates enrolled in 15 or more credits — both record numbers.
"There are few things as potent in helping students and their families keep costs down as taking 15 or more credits per semester. It is a message we have been pressing since 2011, when only 50% of our first-time students were taking that credit load," Cruzado said.
In terms of keeping students in school, MSU saw 77.9% of its first-time, full-time students return for a second fall term, a measure called "retention." That rate is up 2.7 percentage points over last fall. When all new students are counted — including full-time, part-time and transfer students — the retention rate is 75.4%, the highest rate seen in at least 15 years.
"Getting students to return for a second fall semester is key to their future success," Swinford said. "Students who persist into their second year of college are far more likely to persist all the way to graduation, so higher retention is good news for MSU students. It means we are all working hard for the benefit of society."
One key to persistence has been MSU's efforts to pre-register students for classes weeks or months in advance of their first day of class, which allows students to focus on their schooling rather than the anxiety of deciding what class to take, according to MSU Provost Robert Mokwa. A higher proportion of MSU students than ever before finished the spring 2023 semester with their fall classes already scheduled, and MSU also saw a significant number of students register over the summer, he said.
"MSU has worked hard to make the academic advising and registration process more seamless for students through our NavMSU app," Mokwa said. "On top of that, we have increased the capacity in key courses that our students need to graduate on time. Much credit goes to our advising teams and to the dedicated faculty who help our students succeed year after year."
MSU's four-year graduation rate increased to 37.8%, and its six-year rate, which is tracked by the federal government, increased to 57.4%. The university awarded 3,503 degrees in the past year, the second highest total on record. Among those were 2,535 bachelor's degrees, 540 master's degrees, 104 doctoral degrees, 91 graduate certificates, 124 associate degrees and 97 workforce certificates.
Among MSU's students, 14,885 were undergraduate students, and 2,093 were enrolled in graduate studies. Both of those tallies are up 2% over fall 2022 numbers, with the grad student enrollment being the second highest on record — increasing graduate student enrollment is one of MSU's long-term goals detailed in its strategic plan, Choosing Promise. A total of 8,195 of MSU's students are Montana residents, comprising 48% of the student body. MSU enrolls more Montana residents than any other university or college in the state.
Other highlights from the fall census, which is conducted after the 15th day of classes:
MSU's incoming class of first-time students is the third largest in history at 3,634. Of those, 1,400 were Montana residents.
Just over 30% of MSU's students live in on-campus housing between MSU's residence halls and apartments for graduate students, a total of nearly 5,200 students — the highest total ever. MSU's residence halls are at 96% capacity and have been at or near capacity for a decade.
The number of students taking advantage of veteran benefits at MSU was up 2% this fall to 556. MSU has been named a top university in the nation three years in a row for its support of student veterans.
MSU attracted 72% of the state's Montana University System Scholarship winners, a total of 144 students. The university has been the top choice for MUS Scholarship winners for more than a decade.
MSU enrolled record numbers of African-American students (293), American Indian/Alaska Native students (817), Asian students (708) and Hispanic students (955).
MSU's largest college is the College of Letters and Science with 3,518 students, followed by the Norm Asbjornson College of Engineering (3,393), Jake Jabs College of Business and Entrepreneurship (2,186); College of Agriculture (2,050); College of Education, Health and Human Development (1,607); Mark and Robyn Jones College of Nursing (1,258); College of Arts and Architecture (1,226); and Gallatin College MSU (906).
- by MSU News Service -