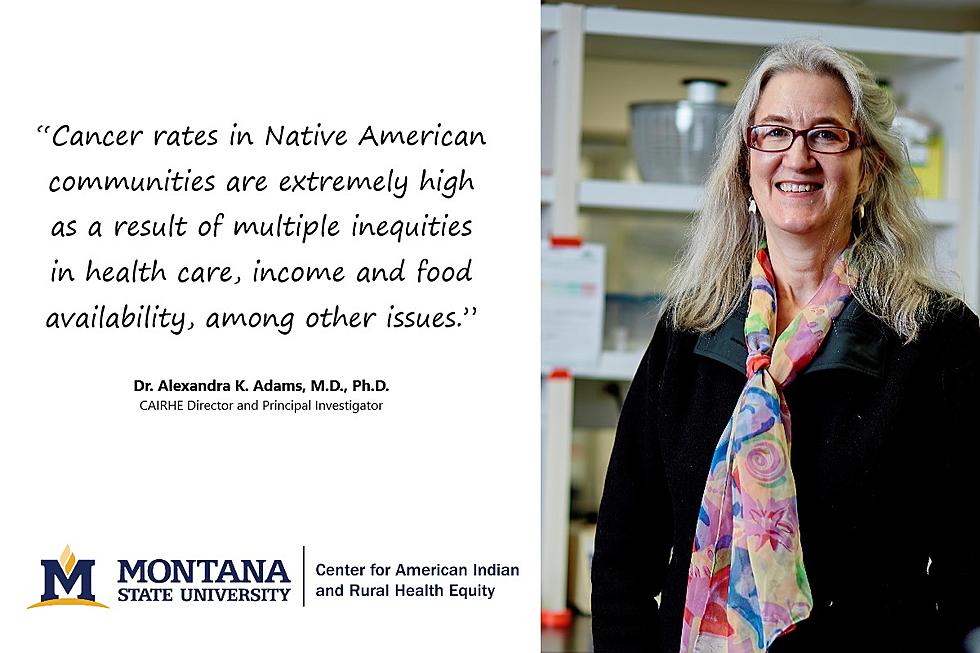 MSU, Univ of Utah Collaborate on Cancer Study
Photo: MSU. Graphic by Anne James
BOZEMAN — Montana State University's Center for American Indian and Rural Health Equity, or CAIRHE, in collaboration with a research center in Utah, has launched a new project that aims to address health in areas struggling with persistent poverty, including areas in Montana and other states. The work is supported by a $9.6 million grant from the National Cancer Institute, which is part of the National Institutes of Health. MSU's portion of the award is $2.4 million.
The new grant brings together the expertise of researchers at MSU's CAIRHE; the Center for Health Outcomes and Population Equity, or HOPE, at Huntsman Cancer Institute; and the University of Utah to expand their impact through two initiatives that address poverty as a fundamental cause of cancer-related inequities. The joint project is known as HOPE & CAIRHE 2gether, or HC2.
The grant is part of the National Cancer Institute's Persistent Poverty Initiative. As part of this initiative, National Cancer Institute program officers and staff scientists provide expertise, data and other resources to assist the university research teams. The initiative's goal is to empower institutions, clinics, communities and tribes to collaborate and develop a cancer prevention and control research program that focuses on and serves people living in persistent poverty.
The grant's co-principal investigators are Dr. Alexandra Adams, CAIRHE director and a faculty member in MSU's Department of Sociology and Anthropology in the College of Letters and Science, and David Wetter, senior director of cancer health equity science and director of the Center for HOPE. Wetter is also a Jon M. and Karen Huntsman Presidential Professor in the Department of Population Health Sciences at the University of Utah.
"The poverty level for a family of four is an income of $30,000 a year or less," Wetter said. "Unfortunately, people living in poverty have a far greater likelihood of getting almost every type of cancer, and it's critical to eliminate this inequity if we are to meaningfully reduce the pain and suffering due to cancer."
Social factors, such as living in poverty, being uninsured, having unstable housing or lacking access to healthy foods can put a person at a higher risk of getting cancer or lead to later stages of diagnosis with worse outcomes, Wetter explained.
Adams noted that the inequities for Native American communities are especially severe.
"Cancer rates in Native American communities are extremely high as a result of multiple inequities in health care, income and food availability, among other issues," Adams said.
One part of the grant is led by Emily Tomayko, assistant professor in MSU's Department of Food Systems, Nutrition and Kinesiology and a CAIRHE researcher. Tomayko leads a project aimed at lowering the risk of cancer in Native American populations across four states by studying the social factors that affect health and by promoting family wellness.
The project uses a culturally tailored, family-based wellness program called Turtle Island Tales. Tomayko and Adams developed the research-based program in partnership with eight tribes across the United States. Tribal nations in four states, including Montana, collaborate with CAIRHE on the project.
Another part of the grant will be led by Chelsey Schlecter, a researcher at Huntsman Cancer Institute and assistant professor of population health sciences at the University of Utah. That project will address the social factors of health related to tobacco use. Using tobacco greatly increases the risk of getting cancer, and its use is concentrated in areas where people are experiencing poverty and are medically uninsured, according to Wetter.
Wetter noted that both projects will benefit from the interstate collaborations.
"We have Montana experts involved in our Center for HOPE tobacco use project and Utah experts involved in the CAIRHE project," Wetter said. "Because of these collaborations, it gives us the opportunity to have a much greater impact with respect to reducing health inequities."
According to the National Cancer Institute, long-term goals of the Persistent Poverty Initiative are to conduct research that fosters cancer prevention efforts, as well as to promote programs that help reduce the risk of cancer among people living in poverty.
Founded in 2014, CAIRHE is a multidisciplinary network of researchers, faculty members and students spanning multiple colleges and MSU academic departments. In addition to funding faculty research projects and smaller pilot projects that are working with Native and rural partners across the state, CAIRHE facilitates mentorship for junior faculty to help them become independently funded researchers who hold the highest level of grant funding from the NIH or other national grant-awarding agencies.