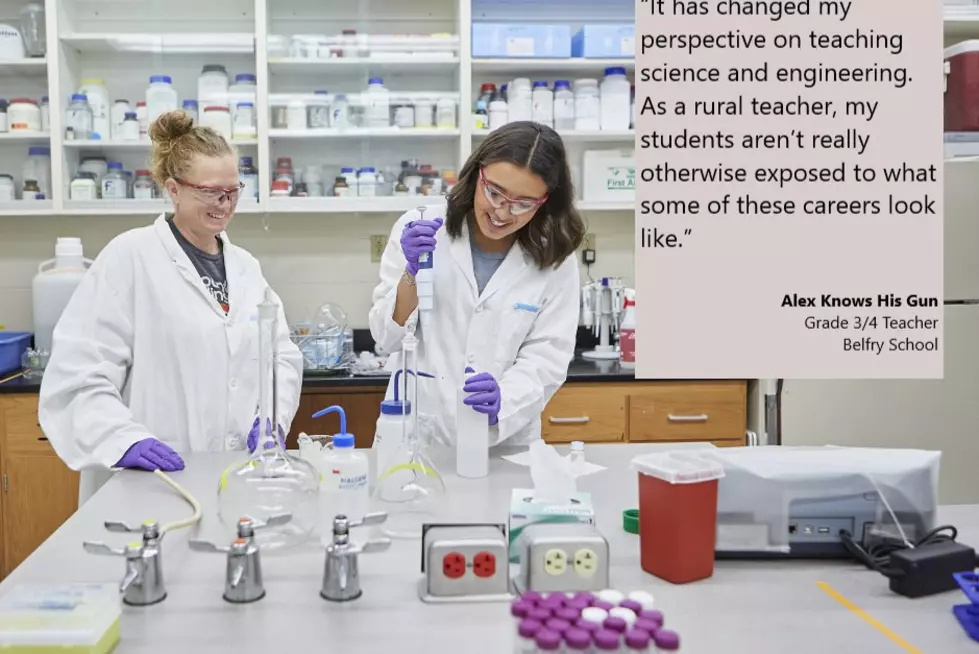 Rural Montana Teachers Strengthen Science Skills with MSU Summer Research Program
Kimberly King, left, a third-grade teacher at Meadowlark Elementary School in Bozeman, and Lauren Crawford, a pre-service teacher and MSU education student, work on a research project in a civil engineering lab on July 20, 2022, during the Research Experience for Teachers program. MSU Photo by Adrian Sanchez-Gonzalez
BOZEMAN — As a teacher in a small town an hour's drive south of Billings, Alex Knows His Gun wanted to expand learning horizons for her students. So she jumped on a chance to come to Montana State University to work in research laboratories alongside other teachers from around the state.
"I thought this would be a good way to get out of my comfort zone," said Knows His Gun, who teaches a combined class of a dozen third- and fourth-graders in Belfry. As MSU's six-week Research Experience for Teachers program wrapped up last week, she said she's inspired to bring what she has learned back to her classroom.
"It has changed my perspective on teaching science and engineering," Knows His Gun said. Being a scientist or engineer "isn't just people sitting at computers. As a rural teacher, my students aren't really otherwise exposed to what some of these careers look like."
As one of seven elementary teachers participating in the energy-themed program, including others from small towns such as Culbertson and Polaris, Knows His Gun has spent three days per week contributing to a real research project in MSU's Norm Asbjornson College of Engineering. In the lab of David Hodge, professor in the Department of Chemical and Biological Engineering, she processed corn stover — the biomass left after corn is harvested — as part of work to improve biofuels.
"Our top goal is to create a fun, rewarding experience," said program leader Paul Gannon, professor of chemical and biological engineering. This summer marks the start of the three-year program, which is backed by a $600,000 grant from the National Science Foundation. More teachers applied than could be accepted, so Gannon is exploring how to expand the program next year. "I think it demonstrates that there's a real demand for this in the state," he said.
Participants, which included four MSU undergraduates studying to become teachers, are encouraged to take what they learn in the lab and create lesson plans for their students. Jamie Janosko, who worked on algal biofuel research in the lab of Robin Gerlach, is looking forward to having her students grow their own algae, isolate and analyze the cells, and then use the aquatic organisms to make a paint for art projects. She's also planning to have her students correspond and video-conference with the MSU researchers.
"It's one thing if I tell my students what engineering is, and another for them to see and hear directly from people working in it day to day," said Janosko, who teaches third grade in Twin Bridges. "As rural teachers, sometimes it feels like we need to know everything, but really we just need to have connection with professionals who can help foster students' passion for science or other STEM fields."
Besides giving teachers new tools for teaching science, technology, engineering and math, the program is also structured to help them fulfill the Indian Education for All curriculum, Montana's constitutional requirement to teach the cultural heritage of American Indians, noted Gannon, who is an affiliate faculty member of MSU's Montana Engineering Education Research Center, or MEERC. The teachers visited Madison Buffalo Jump State Park on a field trip, met with tribal members and exchanged ideas during weekly workshops about how to incorporate IEFA into their classrooms.
"I think I've really grown as an educator from those interactions," said Knows His Gun, who grew up in Colstrip and is married to a member of the Crow Tribe. "Incorporating IEFA into teaching STEM
isn't something that's obvious to teachers, but I think it helps to overcome misconceptions and teach about the variety of tribal cultures in the state." Janosko, for example, said her new lesson will include the students learning about Indigenous pigments and using the algae paint to make pictographs.
Sweeney Windchief, associate professor of education in MSU's College of Education, Health and Human Development, is advising the program on including Indigenous perspectives, while Rebekah Hammack, assistant professor of education, Nick Lux, associate professor of education, and Abigail Richards, head of the chemical and biological engineering department, are co-leading the project. Suzi Taylor, director of Science Math Resource Center, is the project coordinator. Participants receive a $6,000 stipend and help with travel costs, and housing and meals are provided.
Knows His Gun said she would recommend the program to other teachers. "I get to go back to my students and tell them how I got out of my comfort zone and tried something new," she said. "As an educator I think we need to teach by example."
Other participating teachers and where they teach: Barbara Alden of Crow Agency and St. Labre, Megan Brenna of Livingston, Emily Gardner of Dillon and Polaris, Kim King of Harrison and Bozeman, Lee Vandall of Sidney and Culbertson. The undergraduate participants and their hometowns: Lauren Crawford Bleazard of Wolf Point, Allie Delaney of Charlo, and Kalani Madrona and Torie Prall of Bozeman.
For more information about the program and to sign up for email notifications about enrolling, visit montana.edu/ret.
- by Marshall Swearingen, MSU News Service -