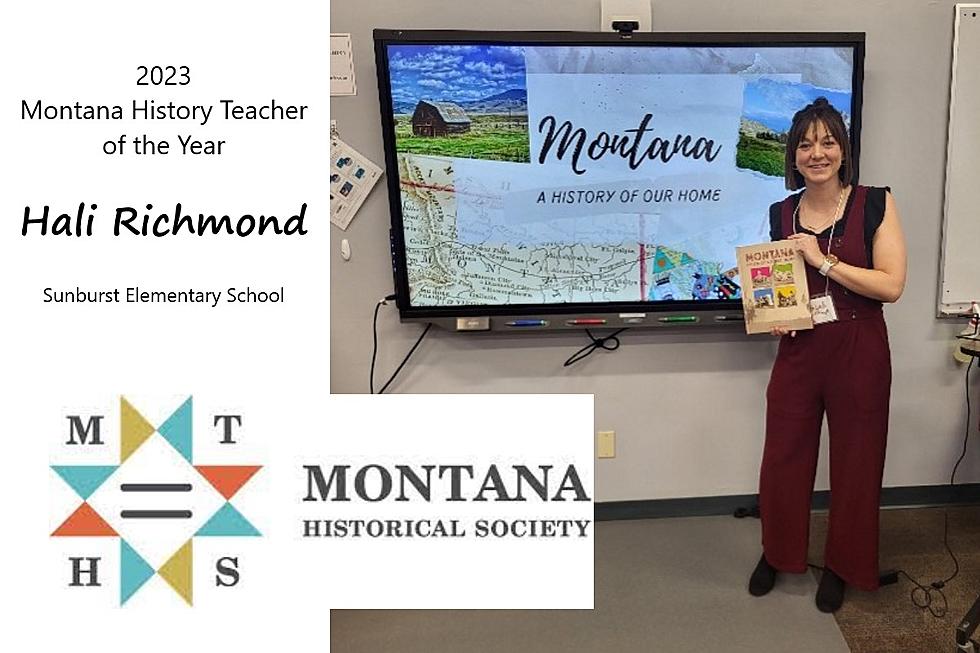 Sunburst's Hali Richmond is 2023 Montana History Teacher of the Year
Photo Credit: Montana Historical Society. Graphic by Anne James
Sunburst 4th Grade Teacher Hali Richmond has been named Montana History Teacher of the Year for 2023 by the Montana Historical Society.
Richmond was nominated by 4-grade student Bree Chilton, who wrote a letter of nomination, praising her teacher for her lessons on Montana's tribal nations and reservations in Montana, and the way she treats her students.
"I am Chippewa, and she let me teach some Chippewa words," Bree wrote. "She cares about her students."
Bree's nomination letter was supported by Sunburst School Elementary Principal Dan Nau. In his nomination letter, Nau wrote that Richmond "epitomizes what every person desires in a great teacher. She is passionate, energetic, positive, organized and has high expectations for her students."
Richmond is a graduate of the University of Montana and is working on her master's degree there. She previously taught in one-room schoolhouses near Missoula and at Galata.
According to Norma Ashby Smith, coordinator for the Montana History Teacher of the Year program, Richmond will receive $4,500 from event sponsors Montana Television Network, the Sons and Daughters of Montana Pioneers (SDMP), and the History of Montana Foundation. The money may be used for classroom materials, guest speakers, field trips, and anything that enhances student learning.
For writing the winning nomination letter, Bree will receive 100 gold Sacagawea dollars from Judge Judy Wohlfrom of California. Each student from Sunburst who attends the award ceremony will receive a gold Sacagawea dollar from Mike Collins, President of SDMP, and his wife. Other sponsors for this project are the Montana Historical Society and the 1889 Coffeehouse in Helena.
The History Teacher of the Year is part of the 34th Montana Statehood Centennial Bell Award. The public is invited to attend the Nov. 8 ceremony on Statehood Day, at 10 a.m. at the State Capitol in Helena. Richmond and her students will ring the Centennial Bell at 10:29 a.m., the exact minute Montana became the 41st state in 1889.