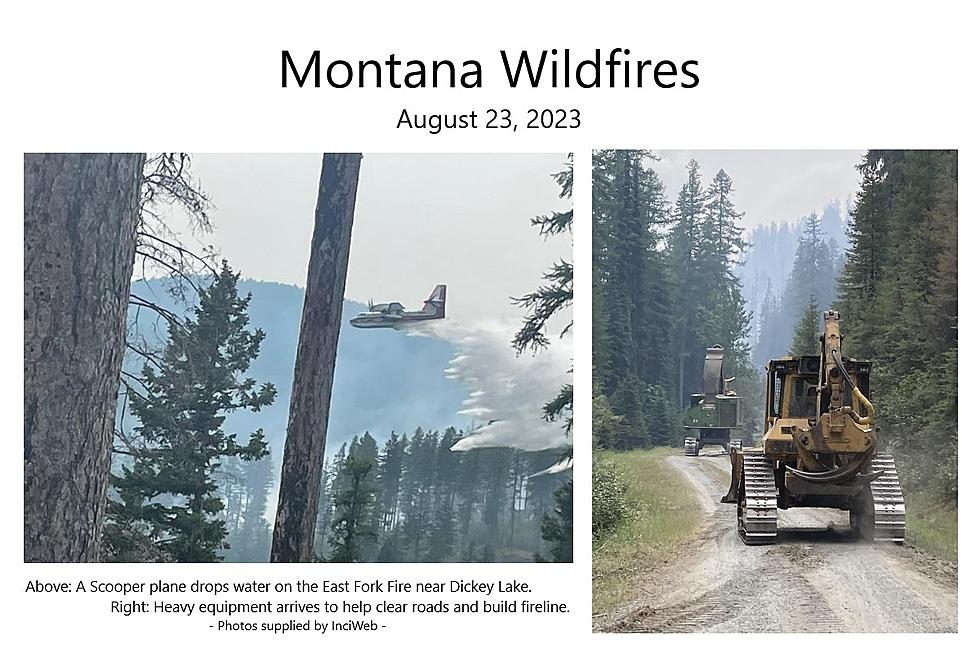 TS Hilary Lends a Hand to Northwest Firefighters
Photos supplied by InciWeb. Graphic by Anne James
More rain fell on western Montana wildfires on Tuesday, further aiding firefighters trying to rein them in. Over the weekend, the CSKT Division of Fire announced they had both the Niaranda and Mill Pocket fires surrounded, and we probably won't be seeing any more daily reports on those fires. Here is the latest on the other fires:
RIVER ROAD EAST FIRE (16,772 acres - 6 miles due East of Plains)
Tree-felling crews and heavy equipment are working to remove hazardous burned trees and downfall along a portion of River Road East affected by the fire. Two days of rainfall within burned areas has weakened roots and loosened rocks, sending some debris onto the roadway. Crews are removing debris and hazards from the roadway to allow safer travel.
As intermittent rainfall subdued fire behavior yesterday, firefighting resources seized the opportunity to work on direct control lines along the fire's north side (Henry's Creek). Additional containment was gained yesterday (2%), and the fire size was updated from 16,790 acres to 16,772 acres to reflect an increase in mapping accuracy.
The most active area of fire was observed in Kennedy Creek in burned stumps and down logs. Crews worked to fall hazardous burned trees along access roads into the fire area. In remote areas, crews worked to find safe access points through steep, broken terrain in order to locate control line options.
On the north side of the fire, crews extinguished areas of heat along the fire perimeter.
Firefighters are working with residents to leverage local knowledge to locate the best option to construct a fire control line on the northwest flank of the fire. This proposed line would connect to the bluffs along River Road East and keep the fire spreading north of Pat's Knob Road.
Additional helicopters are arriving on scene today. These aircraft will be available to work with ground crews to deliver water to areas of heat to limit growth and reduce flame length, allowing ground personnel the opportunity to safely construct direct control lines along the fire's active edge.
If soil conditions allow, crews will continue to work from roads along the east side (Camas Prairie) of the fire to cut off fire spread to the east.
River Road East Fire Public Meeting Thursday, August 24, 2023 6:00 to 7:00 pm Plains High School Gym 412 Rittenour Street Plains, Montana Fire personnel, agency representatives, and local officials will be present to provide brief updates and be available for questions. The meeting will be held in-person and will be livestreamed on the River Road East Fire Facebook page.
Evacuations are still effect McLaughin Creek. The Montana Red Cross has opened a shelter at the Church on the Move in Plains.
SIDNEY FIRE (198 acres - 16 miles west of Heart Butte)
Trails in the area remain closed. CLICK HERE for the Helena-Lewis & Clark National Forest's latest closure map.
RIDGE FIRE  (3651 acres - 6 miles southeast of Hungry Horse)
The Hungry Horse Reservoir remains closed to all public access, including both the east and west side roads. As firefighting efforts continue on the Ridge Fire, the Tin Soldier, and other fires in the area. Visit the Flathead National Forest website for more information.
Rain fell across the Ridge, Doris Point, and Tin Soldier Fires on Monday aiding firefighters by moderating the fire activity.
Crews on the western and northern area of the fire continued to address areas of heat, mop up, and back hauled excess equipment. Drop points in these areas were cleaned up and crews are preparing for more rain. On the northeastern edge, firefighters monitored yesterday's spot fires and the control lines around them and worked areas of heat. Heavy equipment will be constructing indirect line through dense vegetation. To the southeast, mop up continued. Today, crews will continue mop up activities and install control lines where appropriate to prevent fire spread to the north and east. Aviation will be utilized if the weather and winds allow.
The Flathead County Sheriff's Office has rescinded the pre-evacuation notice from the east side of Spotted Bear Road to West Glacier. Visit the Flathead Sheriff's office Facebook page for details.
DORIS POINT FIRE (1534 acres - 8 miles south of Hungry Horse)
Crews are maintaining confinement, and point protection strategy on the values at risk in coordination with the Flathead National Forest. Crews will continue fuels reduction, structural prep, setting up pumps, sprinklers, and wrapping structures and signs.
TIN SOLDIER COMPLEX (7697 acres - 17 miles east of Swan Lake)
Yesterday, crews held and secured Meadow Creek Road. Crews will maintain point protection strategy on the values at risk in coordination with the Flathead National Forest. Crews will continue fuels reduction and structural prep, setting up pumps, sprinklers, and wrapping structures and signs.
An evacuation order issued by the Flathead County Sheriff for Heinrude community remains in effect. Visit the Flathead Sheriff's office Facebook page for details.
EAST FORK FIRE (4614 acres - 12 miles south of Trego, MT )
The East Fork Fire received approximately 0.6" of rain over the last two days. Hand crews focused on areas of opportunity, including moving in as close as possible to the fire's edge and tackling spot fires to the north of the main fire. Additional heavy equipment arrived, which will build the team's capacity for activities such as fireline construction and road clearing.
The reduced fire intensity allows firefighters to more rapidly extend the existing fireline. Firefighters will continue to work to extinguish all spot fires and use drones for reconnaissance, especially in the Martin Creek area.  Today's weather should permit aviation resources such as helicopters and scoopers to join in the effort as well. Night operations will also continue, including patrols and the removal of logs from the fire area.
Some communities remain in a Pre-Evacuation Warning.  Residents may return to their homes under a Pre-Evacuation Warning, but may need to leave again on short notice. For more information, go to the Sheriff's Department website.
COLT FIRE (7154 acres - 15 miles northwest of Seeley Lake)
The break in rain yesterday allowed crews to continue patrols and monitoring for pockets of heat. Suppression repair and rehabilitation plans are being implemented in areas of containment.
The forecast is calling for rain showers Wednesday morning, followed by warming and drying in the coming days. Firefighters will engage in mop up activities, as weather allows.
Forest Service closures are still in effect around the fire area. More information for closures is available HERE.
NIARANDA FIRE (20,365 acres - 12 miles west of Elmo) & MILL POCKET FIRE (1869 acres - 3 miles West of Hwy. 28)
Both the Niarada Fire and Mill Pocket Fire are 100% contained.
The Lake County Sheriff's office lifted the pre-evacuation warnings related to the Niarada Fire. All residents may bring their livestock back home.
BIG KNIFE FIRE (7275 acres - 5 miles east of Arlee)
After substantial rains yesterday, minimal fire growth is expected today. Outside the fire's eastern edge, at Jocko Lookout, 1 inch of rain was recorded with 0.66 inches being the average across the fire area. As weather and road conditions allow, crews will continue brushing along the S. Canal Road. Crews will be mopping up and monitoring fire activity as heavier fuels continue to smolder along Agency Creek.
The Big Knife Fire is currently 1.25 miles north of the Rattlesnake Wilderness Boundary (Lolo National Forest) with no significant growth towards the Lolo National Forest in the last week. Smoke from the fire may impact the Snowbowl area, however the Lolo National Forest does not have any forest closures in place on the Missoula Ranger District.
Several areas near the base of the mountains west of the Big Knife Fire remain in PRE-EVACUATION WARNING by order of the Lake County Sheriff. The Tribal Primitive Area, Belmore Slough and Burnt Cabin Roads are closed.