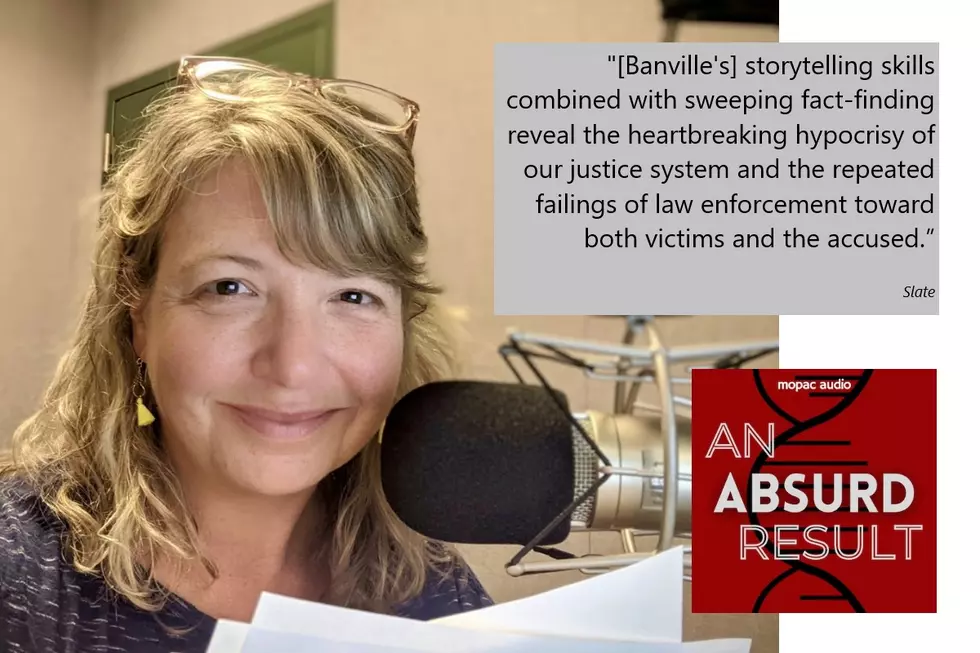 UM Professor's True-Crime Podcast Named Among the Best 
Photo: UM Graphic by Anne James
MISSOULA – Slate magazine recently picked the best true-crime podcasts, books and movies available in 2022, and Jule Banville's "An Absurd Result" made the cut. 
Banville, an associate professor at the University of Montana, teaches audio, reporting and writing courses at the School of Journalism and advises the Montana Kaimin student newspaper. Slate highlighted her seven-episode podcast in a list of media that thoroughly depict crime without exploiting victims and their families. 
"An Absurd Result" explores the fallout from a 1987 assault on an 8-year-old girl in Billings. Linda Glantz chose to be identified and speak openly in the podcast. The story explores how the discovery of DNA affected this case. 
"It's wonderful to see 'An Absurd Result' receive this sort of attention," Banville said. "Meeting the rape survivor at the center of this story and hearing what she has to say about everything that's happened to her – it was the most important reporting I've done in my career. I'm really honored to be in a list like this, and I hope it will help more people get to know Linda." 
Slate wrote of the podcast: "Banville, an independent producer and journalism professor at the University of Montana, gave this story the space and time it needed, gorgeous (but not flowery) writing combined with impressive shoe-leather reporting. She left no stone unturned. Her storytelling skills combined with sweeping fact-finding reveal the heartbreaking hypocrisy of our justice system and the repeated failings of law enforcement toward both victims and the accused." 
"An Absurd Result" can be found online at https://www.absurdresultpodcast.com/. Banville also created the podcast "Last Best Stories," which ran from 2015-2018 and consists of sound-rich features from Montana. Both can be found on most podcast services. 
Before she began teaching, Banville worked for newspapers, public radio and ran the editorial for a website covering the Rocky Mountain West. She was the assistant managing editor at Washington City Paper, the alternative newsweekly serving the District of Columbia. Banville was a daily news reporter at the Erie Times-News in Pennsylvania for a decade. She also worked as a radio producer for WNYC, the New York NPR station, as part of the original staff that launched "The Next Big Thing."
At UM, where she's taught full time since 2012, she said she's most proud of the "amazing, creative, diverse" audio stories her students have produced over the years. Dozens of their stories are archived at the Public Radio Exchange, PRX.org, under the title "University of Montana Journalism."  
- by UM News Service -