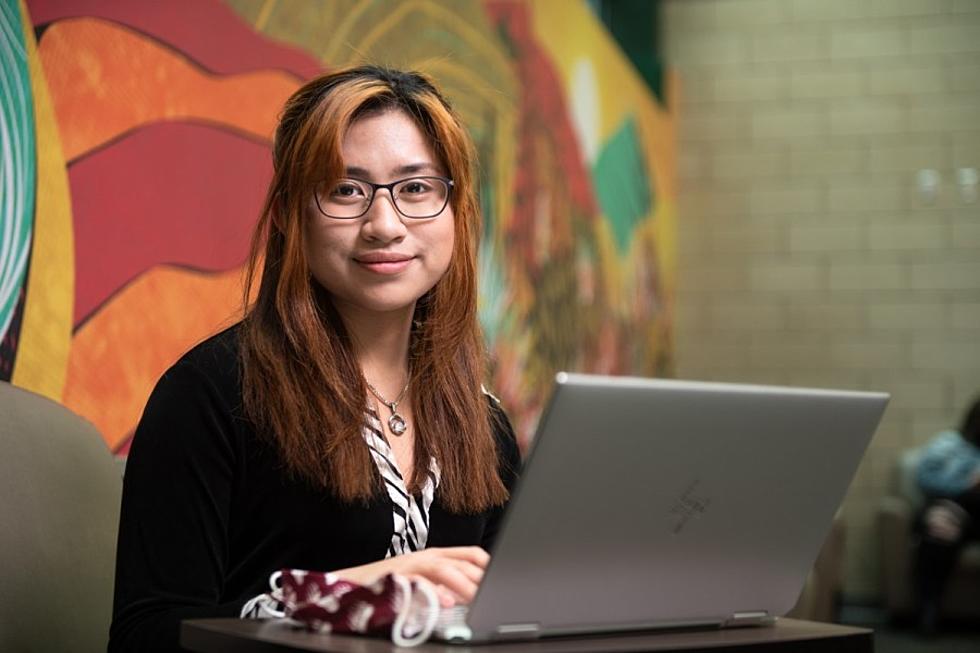 UM Program Aims to Increase College Student Retention
UM sophomore Shiena Medrano credits the Montana 10 program for helping her navigate the complexities of college life. Today, the honors student has found a place and a purpose as a member of the campus community. (UM Photo)
MISSOULA – As far as challenges facing first-year college students go, Shiena Medrano had more than her fair share when arriving at the University of Montana in the fall of 2019.
Medrano had moved with her mother from Manilla, Philippines, to live with family in Philipsburg just two years before. Although she spoke English, she was still processing massive changes in her life – the transition from living in a large and crowded city to a small-town campus, the cultural differences among her classmates and, as with every student in the past year, the seismic shifts in learning brought by COVID-19.
Medrano, a proud Montana resident, is now an honors student. She credits her success to a relatively new initiative, the Montana 10 program, which provides students with needed scholarship money and something equally important – emotional and academic support.
"The stipend I get is very helpful," said Medrano, who is double majoring in accounting and management information systems. "But the Montana 10 team helps give you guidance and life skills. They tell you, 'You have time to figure it out, and we will get through this.'"
Launched by the Montana University System Office of the Commissioner of Higher Education in 2019, Montana 10 aims to increase retention and graduation rates of Montana college students. The program is open to first-time freshmen who are Montana residents and PELL-eligible because of financial need. Campus participants include UM, Missoula College and Helena College.
Crystine Miller, director of student affairs and student engagement at OCHE, said the program's name refers to the 10 strategies and support systems provided to students in the program – all of which are integrated, comprehensive and evidence-based to improve student outcomes.
"Montana 10 is one primary strategy of OCHE to make good on the promise that increased access to higher education actually translates to more Montanans with college degrees and a more completive workforce," Miller said. "We designed and implemented this evidence-based program, which advocates for increased commitment to student success and helps our state achieve its college attainment and workforce development goals."
Based around what Miller calls the "hidden curriculum" – challenges and barriers students face, such as additional costs –Montana 10 includes training and resources for Native American and nontraditional students whose needs differ from the typical freshman, as well as low-income students.
"They have this whole set of additional things they have to navigate, primarily financial aid. They have to figure out housing," Miller said. "Anything that has a cost they have to figure out differently than a student who has other ways to pay for the cost of higher ed."
The program offers financial support, such as scholarships, textbook stipends and monthly incentives to students, as well as specialized math and writing courses. Advising is another key component of the program, with a student-to-advising ratio less than half the national average.
Amy Capolupo, director of Montana 10 and UM's Office for Disability Equity, said students in the program have secondary advisers and an academic and faculty adviser. These advisers address financial and housing concerns, set up counseling care and help students meet goals. Advising is personalized according to student needs.
"Their primary goal is to make sure all those other components students need are in place," Capolupo said. "Their adviser is their person."
Miller said those who have not historically had access to higher education are faring worse than peers when it comes to taking on debt, graduating on time and staying in school. She said it is invaluable to ask what happens to those students.
"We should measure ourselves by what we are able to provide for students," Miller said. "We have to get them here, and then we have to work full time to keep them."
Capolupo said in one instance, a 3.8 GPA student had an unexpected medical issue that, if not for the help of Montana 10, would have prevented him from re-enrolling. Montana 10 used the program's financial supports to cover some of the outstanding balance on his student account. Program advisers also helped him get registration holds removed and helped connect him to resources to get insurance issues resolved.
"He was a very gifted student, he was going to do very well in life, but he would not be returning this fall without those funds," Capolupo said. "When you're under that kind of stress, your ability to actually learn is challenged."
Although similar programs exist at City University of New York, such as the Accelerated Study Assistant Program, and Ohio Community College – where such programs have doubled on-time graduation rates – Montana faces different challenges with mostly residential, rural students who primarily need to find housing and child care, Miller said.
Advisers for the Montana 10 program help students find classes with flexible attendance options if they need to work or watch kids, and remote learning options that allow them to remain involved in the academic environment.
The Montana 10 program just wrapped up its first year with 200 students, 183 at UM and Missoula College. The second cohort of 35 students are attending Helena College this fall.
Capolupo hopes the program grows over the next few years with state investment.
"This is something UM can be proud of," Capolupo said. "It's an honor to work for UM in the context of this program."
Although a second-year student, Medrano now has enough credits to qualify as a junior, serves as a member of the Dean's Student Advisory Council at the Davidson Honors College – of which she is a member – and is an Indigenous/Rural Outreach Ambassador for Accelerate Montana. She's growing accustomed to small-town life, loves the natural setting around Missoula and has made many friends, including "a bunch" of other fellow international students.
"College gives you the power to select your tribe," she said, "and it's a really great community here."
- by UM News Service -