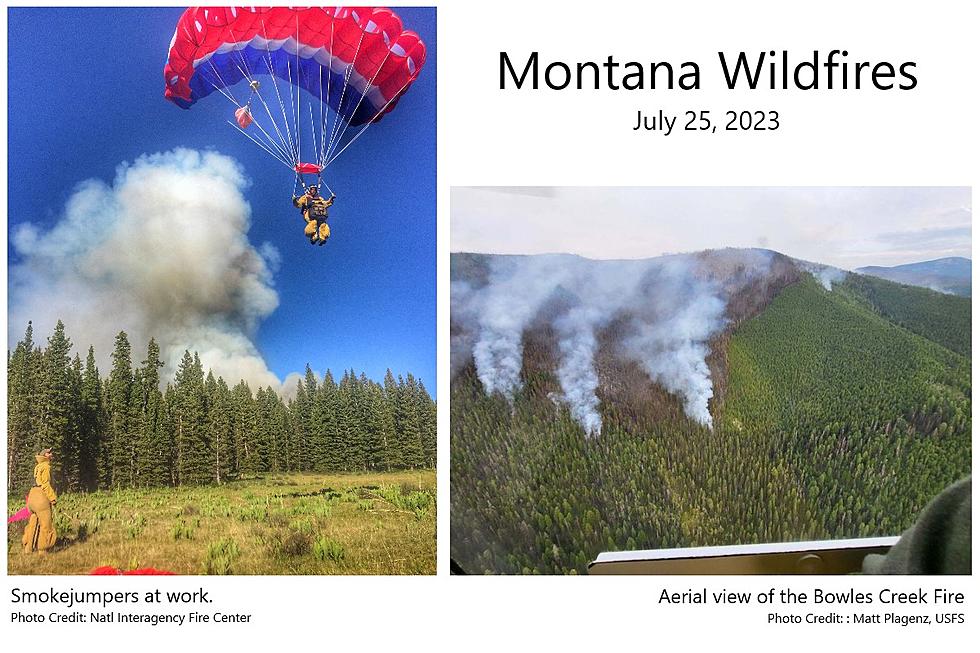 Yellowstone's 1st Wildfire of the Season Quickly Extinguished
Photo Credits: NIFC, USFS/Facebook. Graphic by Anne James
The 2023 Montana Wildfire season is gathering momentum. Recent lightning storms  have sparked several new blazes in the western part of the state. However, smokejumpers made quick work of Yellowstone National Park's first fire of the season. The following information has been gathered from several sources, including InciWeb, the Interagency Fire Information Center:
YELLOWSTONE NATL PARK
The first confirmed wildland fire of the season in Yellowstone National Park was detected by a visitor over the weekend. Park Public Information Officer Linda Veress says the.1-acre lightning-ignited fire was located between Little Cottonwood Creek and Hellroaring Mountain in the northern part of the park. Four USFS smokejumpers based in West Yellowstone, Montana, quickly put it out. The parkwide fire danger level for Yellowstone is now HIGH.
Currently, there are no active wildland fires in the park, and there are no fire restrictions in place or planned in the park.
Visitors are reminded that campfires are only permitted within established fire rings in campgrounds and some backcountry campsites. Campfires must always be attended and cold to the touch before abandoning. Soak, stir, feel, repeat.
BIG KNIFE FIRE                                                                                                                 
Missoula, Mont. - KPAX-TV is reporting a new wildfire in western Montana. The Big Knife Fire is burning approximately six miles southeast of Arlee, in steep, rocky terrain on the ridge south of Big Knife Creek. It is around 116 acres and growing quickly, while aircraft are dropping fire retardant in an effort to slow its spread. The fire is believed to have been caused by lightning on Monday.
COLT FIRE
The Colt Fire has grown to 4390-acres, as of Tuesday morning, and continues burning in dense timber with heavy dead and down fuels on the Lolo and Flathead National Forests, approximately 12 miles northwest of Seeley Lake. Fire activity has included torching, spotting, and active consumption of heavy fuels. The fire continues to actively burn on all sides and remains active during the night. The fire is expected to continue to increase in size with the forecasted weather conditions. The Colt Fire is a full suppression fire and firefighters are creating fuel breaks and containment lines and performing structure protection assessments and preparations. Air resources will be used as needed to slow fire spread and cool down areas of heat.
For the safety of the pilots and public boaters on Seeley Lake and Lindbergh Lake need to stay clear of fire aircraft when they are scooping water from the lakes for firefighting efforts.
A drone incursion occurred on Friday, July 21. Fire managers would like to remind the public that when you fly, we can't. It is also now a criminal misdemeanor in Montana to fly drones that interfere with fire suppression efforts – with a fine up to $1,500 and the violator has the potential to be charged with firefighting costs.
The Missoula County Sheriff's Office has issued an Evacuation ORDER for residences along Highway 83, between mile marker 31 (Beaver Creek Road at the intersection of Highway 83) south towards Seeley Lake to MM 27. This also includes residences in Rovero Flats. Other residents of the area have been given an evacuation WARNING, which means they should be packed and ready to leave on short notice.
Highway 83 is open at this time. However, for the safety of Firefighters and First Responders, DO NOT STOP along Hwy 83! Due to fire activity and smoke across the roadway, visibility is impaired. There is an increase in traffic including emergency response vehicles, large equipment, and law enforcement.
The Lolo and Flathead National Forests have closed several campgrounds near the fire area for public safety. The list of current closures includes:
-Rainy Lake Campground
-Alva Lake Campground
-Lakeside Campground
A public meeting will be held on Tuesday, July 25 at 7 pm at Seeley Lake Elementary School, and Wednesday, July 26 at 7 pm at Condon Community Center.   Incident Management Team members and local officials will provide an update on the Colt Fire.
BOWLES CREEK FIRE
Monday's hot weather caused some increased fire activity and allowed the Bowles Creek Fire east of Hamilton to expand to 1555-acres.Two helicopters provided bucket drops to help delay fire growth. On the west side of the fire, bucket work helped cool the southwest corner. On the east side, bucket drops helped delay fire growth on a second spot north of Bowles Creek. Firefighting crews and resources from both the Beaverhead-Deerlodge National Forest and the Bitterroot National Forest continue to establish "indirect" (away from the active fire edge) firelines. Previous fire lines and dozer lines used in the 2022 Hog Trough fire have helped with thoseobjectives. On the west side, hand crewsare constructing a fuel break adjacent to the Daly Creek Road. On the east side, crews are working south from the Bowles Creek Road  to the 313 Trail.
The Skalkaho Pass Road remains open. Those recreating or traveling in the fire area are encouraged to be aware of the situation and to pay attention to increased fire traffic.
A Temporary Flight Restriction (TFR) is in effect over the fire area for the safety of the aviation resources.