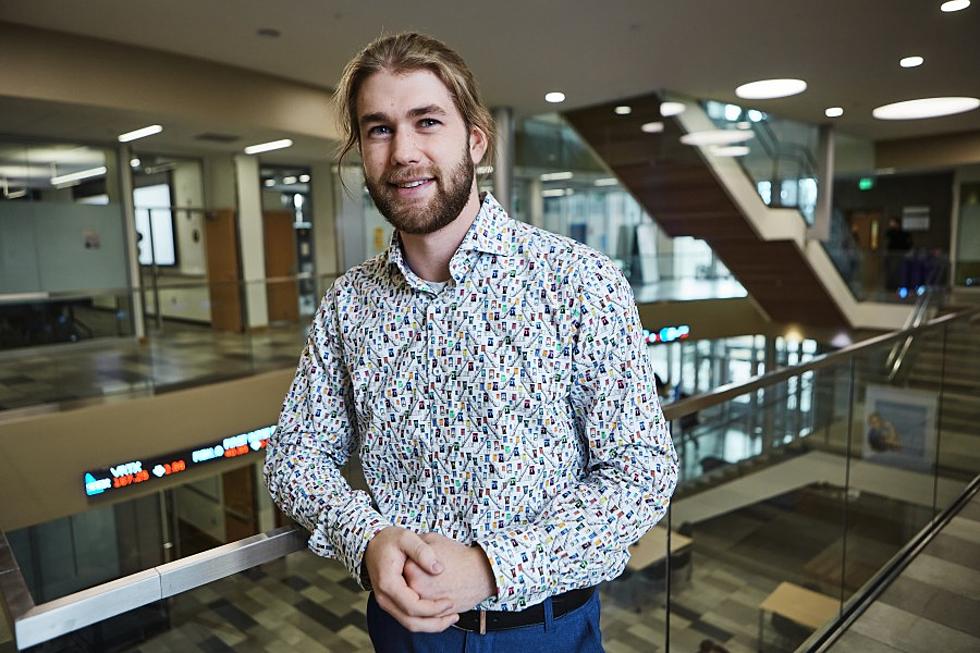 For Graduating MSU Student, Deciding College was 'Worth It' Marked a Turning Point
Josiah Green will graduate Friday, Dec. 17, with a bachelor's degree in business marketing and an entrepreneurship minor from the Jake Jabs College of Business and Entrepreneurship. - MSU photo by Adrian Sanchez-Gonzalez.
BOZEMAN — When Josiah Green walks across the stage at Montana State University's Brick Breeden Fieldhouse on Dec. 17 to graduate with a bachelor's degree in business marketing and an entrepreneurship minor from the Jake Jabs College of Business and Entrepreneurship, he'll do so having wrestled with the question of whether it's worth it to invest in a college education – and, perhaps more importantly, knowing that his answer is yes.
Green recognized that he truly wished to pursue higher education during a break in his college career, when he took off two semesters – in fall 2018 and spring 2019 – after earning poor grades. He was on academic probation and said that in order to continue with his education, he would have to pass the next courses in which he enrolled. During the same time period, three of his grandparents died, he said, and those were losses he felt deeply.
"It was a tough time in my life," recalled Green. "I knew I had to find a reason for why. I had to ask myself, 'What do I want? What can I do on my own without an education? Is it important to finish school?'"
That year, as Green lived in Bozeman, worked at a local restaurant and spent time with friends and family, he pondered the question.
"After thinking about it and talking with family, I realized that 'Yes, I do want to go back.' But I also realized that I had to approach my education with more intention and purpose."
That approach has made a big difference. Green said that once he reenrolled at MSU in fall 2019, he worked to connect with his peers and took on leadership roles in his fraternity, Kappa Sigma. He made an effort to get involved in an organization that was related to his major but that went beyond his coursework, the MSU student chapter of the American Marketing Association. He sought the advice of professors, as well as internships and jobs that would provide knowledge and useful experiences. He also accepted assistance from the MSU Office of Return to Learn, which provided Green with a scholarship, as well as career coaching and financial coaching, to help him as he returned to MSU to pursue a degree.
"In my experience, knowing my 'why' definitely changed my energy, my focus, my intention," Green said. "I now know that I want to use my business degree to work with people, impact the world and express my creativity."
Being involved with the MSU student chapter of the American Marketing Association was particularly impactful, Green said.
"AMA opened the door to so many connections, so many people, so many experiences that helped shape my understanding of what business is on a grand scale," he said.
This fall, Green served as the organization's vice president of consulting services, which meant he was the general manager for the award-winning chapter's marketing agency, M-Trail Marketing Services. In that capacity, Green was responsible for seeking new business for the agency, putting together project teams, overseeing team efforts and working with clients. Green's additional involvement in the student chapter included previously holding a position as the organization's director of fundraising; being part of a team that developed a marketing communications plan for a nonprofit; and participating in the organization's national conference in the spring of 2021.
"This was all so valuable," Green said. "It kept school fun, fresh, alive. I was learning, but being involved also made it all fun."
Green's time at MSU after he chose to return was vastly different from his first experiences at the university, he said. Originally from Belgrade, Green enrolled at MSU in fall 2015 after graduating from high school with 21 advanced placement credits. He originally planned to pursue a degree in engineering but switched to business in 2017.
He said when he first enrolled, he underestimated the amount of effort that would be required.
"I had an expectation of what college would be like, and it was a bit more than I anticipated," he said. In addition to asking himself hard questions about whether he truly wanted to pursue a college degree, learning how to manage his time made a big difference in his MSU experience, Green said.
"I've seen a lot of growth in myself from 2015 to now, as a student who learns, but also as a young adult who figures out the world.
"That's the beauty of college," he continued. "We get to do that without anyone immediately right there helping make those decisions for you. It's exciting."
Green's adviser, MSU associate professor of business marketing Eric Van Steenburg, praised Green's attitude and dedication.
"Josiah is an amazing student and an even more amazing individual," Van Steenburg said. "He's always willing to take on additional responsibilities with a positive attitude, no matter how much he has on his plate. And he always completes his assignments on time and at maximum performance.
"In addition to that, he is an absolute pleasure to be around," Van Steenburg continued. "Conversations with him are always thought-provoking and at the highest intellectual levels. But he's also a lot of fun, and knows when it's time to let his hair down, so to speak."
After graduation, Green will remain in Bozeman and take on a sales position with Navitec, which supplies information security and digital transformation professional services.
"Being able to work in the tech space right out of college is a blessing," Green said. "I'm hungry to figure out what this world is about and am excited to continue learning as I work."
- by Anne Cantrell, MSU News Service -