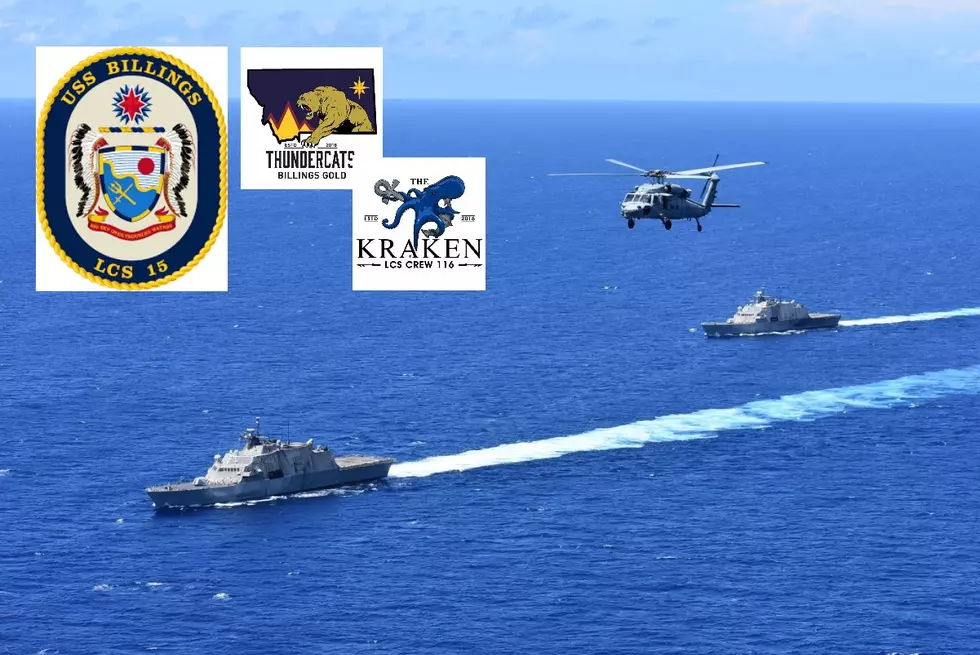 USS Billings Wages War on Drugs in the Caribbean, Eastern Pacific
Caribbean Sea - (Sept. 10, 2022) — The Freedom-variant littoral combat ships USS Wichita (LCS 13), left, USS Billings (LCS 15), and an MH-60s Sea Hawk helicopter assigned to Helicopter Sea Combat Squadron (HSC) 28, Detachment 6, participate in a photo exercise in the Caribbean Sea, Sept. 10, 2022. Wichita and Billings are deployed to the U.S. 4th Fleet area of operations to support Joint Interagency Task Force South's mission, which includes counter-illicit drug trafficking missions in the Caribbean and Eastern Pacific. (U.S. Navy photo by Mineman 2nd Class Justin Hovarter/Released)
"Gold Crew" hands off to "Blue Crew"
MAYPORT, Fla. - The Freedom-variant littoral combat ship USS Billings (LCS 15) Gold Crew returned to Mayport, Fla., Oct. 7th, following its second successful deployment to the U.S. 4th Fleet area of operations.
Billings, along with the "Valkyrie" of Helicopter Sea Combat Squadron (HSC) 28, Detachment 8, deployed in April 2022 to support Joint Interagency Task Force South's counter-narcotics operations in the Caribbean Sea and Eastern Pacific Ocean. The USS Billings (LCS 15) conducted the first east coast littoral combat ship overseas (OCONUS) exchange of command and has operated forward-deployed since December 2021.
During the deployment, Billings, with her embarked U.S. Coast Guard Law Enforcement Detachment (LEDET), assisted in disrupting an estimated 3,065 kilograms of cocaine along with 1,841 pounds of marijuana worth an estimated street value of $217.7 million and removed twelve suspected drug traffickers from the narcotics trade.
"I am once again incredibly proud of the Sailors on Billings for everything they accomplished this deployment," said Cmdr. Brett Seeley, Billings' commanding officer. "They professionally sailed the mighty Billings from the Atlantic into the Pacific Ocean and crossed the equator for the first time in the ship's history. The crew built upon the successes of her maiden deployment a year ago and succeeded at working with our partner nations strengthening our interoperability and taking narcotics off the streets. We look forward to watching our sister crew continue the sustained operations downrange as the mighty Billings leads the way for the littoral combat ship community."
Billings conducted bilateral maritime exercises with Jamaica and participated in the French led multi-national maritime humanitarian assistance/disaster relief (HADR) exercise CARAIBES 2022 to strengthen partnerships and build interoperability among forces.
During a port visit to Ocho Rios, Jamaica, the ship hosted the U.S. Ambassador to Jamaica, the honorable Noah Nickolas "Nick" Perry along with senior members of the Jamaican Defence Force to showcase the capabilities of the USS Billings (LCS 15) and discuss the continued partnership and commitment shared between our two countries.
"Billings' Gold Crew Sailors again showed superior performance in countering malign activities and conducting theater security cooperation," said Rear Adm. Jim Aiken, U.S. Naval Forces Southern Command/U.S. 4th Fleet. "They continued to build onto the firm foundation of demonstrating forward-deployed operations and maintenance, and met U.S. Southern Command objectives for the region."
The Billings' Blue Crew has relieved the Gold Crew and the Billings will remain deployed to the U.S. 4th Fleet area of operations.
U.S. Naval Forces Southern Command/U.S. 4th Fleet supports U.S. Southern Command's joint and combined military operations by employing maritime forces in cooperative maritime security operations to maintain access, enhance interoperability, and build enduring partnerships in order to enhance regional security and promote peace, stability and prosperity in the Caribbean, Central and South American region.